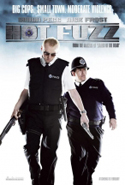 The filmmakers of Shaun of the Dead have returned to the big screen with their latest cult hit Hot Fuzz. The impeccable notoriety of London's most successful crime fighter, officer Nicholas Angel (Simon Pegg), is given a promotion and the new title of Sergeant. Angel's new position takes him to a precinct in a sleepy little village in London's countryside. The township of Sandford has long been admired for its consecutive no-tolerance stands on crime. The twenty-year zero crime-rate record peaks Angel's curiosity. His first day on the job, with his new partner Danny Butterman (Nick Frost), alarms his sixth sense for trouble. Danny, clueless to real police work, only dreams of being like Angel: the kind of officer who brings in the bad guys. Danny's fantasy to be a hard core dynamic duo together with Angel (like the actors in his favorite films Bad Boys II and Point Break) probes possibilities for a promising career as a policeman officer.
Director, Edgar Wright relies on the screenplay written by Simon Pegg, to pull out all the stops for the ultimate British Comedy Thriller. Pegg's beloved British sarcasm brilliantly strings the audience along as he builds the plot for a shocking mystery. Wright uses his liberty to intensify Pegg's twists and turns in the narrative with graphic cinematography. The splendid cast in this cult murder mystery lures the audience into the narrative with sarcastic humor and perfect timing. However, the cult classic lovers will be surprised by the thrilling action and horrific violence. (Karen Pecota)





Would you like to receive a list of all the current month's film releases -- with links to reviews by the KinoCritics -- delivered right into your email box? If so, click
here
to subscribe to the
KinoCritics Newsletter
. We'll email it to your inbox at the beginning of every month.