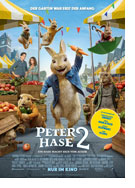 Bea (Rose Byrne) and Thomas McGregor (Domhnall Gleeson) share their newly married life with their five rabbits: Peter, Benjamin, Cottontail, Flopsy and Mopsy. Thomas is proud of his garden and unjustly accuses Peter of stealing his tomatoes. Peter has had enough of always being the bad guy. Dressed in his jeans jacket, he jumps onto the train to the city. There, he makes the acquaintance of an older rabbit, Barnabas, who knew Peter's deceased father. Barnabas introduces him to a farmers' market, which is much more than just a few tomatoes. Acting under Barnabas' influence, Peter organizes his friends, the rabbits, but also a pig, a deer, a duck, a porcupine, a fox, a beaver, a squirrel (which can sing) and more. They plan to steal dried vegetables, while at the same time desperately trying to avoid being picked up by Pieperton's Pets. Meanwhile, Peter falls in with a gang, which includes two cats and a mouse. Soon, Peter must decide where his real loyalties lie.
This is a sequel to the first Peter Rabbit film, which showed in 2018; both are based on an idea by Beatrice Potter that goes back to 1893 and was first available to the public in book form in 1902. It has not lost one moment of appeal to today's audience. Here the animation is so excellent that the animals seem real-life, plus being able to talk, jog, eat sugar, and wear fashionable clothes. There is a parallel story about Bea (whose name is naturally based on the actual author, Beatrice Potter) writing a book about her rabbits, while editor Nigel Basil-Jones (David Oyelowo) attempts to influence the plot. Music from 15 songs accompanies the action into a fast pace. Problems are solved; loyalty is tested; lessons are learned. There is a morale to the story or, as they say, "What greater gift than the love of a rabbit?" which they attribute to Charles Dickens, (whose actual quote was "the love of a cat"). Organize your family and run to the cinema to see Peter Rabbit, 2, a real gift for all ages. (Becky Tan)



| | |
| --- | --- |
| | Black Widow (2021) |
| | Bleeding Audio (2020) |
| | |
| | |
| | Die Olchis: Willkommen in Schmuddelfing (The Ogglies, Smelliville) (2021) |
| | |
| | Niemals Selten Manchmal Immer (Never Rarely Sometimes Always) (2020) |
| | Niemals Selten Manchmal Immer (Never Rarely Sometimes Always) (2020) |
| | Peter Hase 2 - Ein Hase macht sich vom Acker (Peter Rabbit 2: The Runaway) (2021) |
| | Quo vadis, Aida? (2020) |
| | The Father (2020) |
| | The Father (2020) |
| | Cortex (2020) |
| | |
| | Mulan (2020) |
| | |
| | |


Would you like to receive a list of all the current month's film releases -- with links to reviews by the KinoCritics -- delivered right into your email box? If so, click
here
to subscribe to the
KinoCritics Newsletter
. We'll email it to your inbox at the beginning of every month.