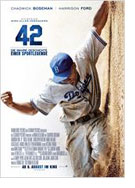 I laughed; I cried and clapped and cheered. Luckily, nobody politely requested that I leave the cinema. This baseball story, based on the life of player Jackie Robinson, tugs at the emotions, especially if you know anything about baseball, or have lived in the US, or even grew up in the era when the first black man was hired to play on a major league team on April 15, 1947.
The president and general manager of the Brooklyn Dodgers at the time was Branch Rickey (Harrison Ford). At age 65, he could have made life easy for himself. Instead he followed his own persuasion, namely that baseball players should be hired according to ability and not race. He set out to change an unwritten rule that limited the game to Caucasians. Perhaps his reasons weren't based solely on moral indignation, as he admitted, "dollars aren't white or black, but green." He hired young Robinson, first to play on a minor league Canadian team and then to move to the major league Brooklyn Dodgers. That meant there were 399 major league white players around the country and one black man. Rickey and Robinson together were strong enough to withstand the ire of the fans, the press, and their own team mates. Robinson was able to keep all frustration buried deep within a far corner of his mind and concentrate solely on his game. His talent spoke fluently for him. His wife Rachel was also a stalwart pillar of strength.
The film's strength is not only the terrific acting, but the way it builds up step by step to what you know will be the grand finale, although often you doubt that it can possibly be successful. The team is divided. Some come from southern towns where black people are second-class. Others only want to win which means they might have to hug this team mate in front of thousands of booing fans, as short stop Pee Wee Reese did (Lucas Black) or tell the coach of the opposing team that he is a bag of shit, something that second baseman Eddie Stanky did (Jesse Luken).
Today, race seems no longer to be a big topic in baseball. Jackie's uniform number 42 has been retired to the Baseball Hall of Fame, except on every April 15, when ALL the players wear number 42. As one player says, "Maybe tomorrow we'll all wear 42 and that way they won't be able to tell us apart."
Equally interesting is Wendell Smith (Andrew Holland), an African-American journalist who supported this movement. He was not allowed to sit in the press box with white reporters and therefore was found in the bleachers with his old-fashioned typewriter on his lap. Director Brian Helgeland was able to work closely with Robinson's widow. She coordinates the Jackie Robinson Foundation which supports minority students in further education. The film takes you to the fashions, cars, and baseball stadiums of 1945-1947, including to long-gone Ebbets Field. A wonderful movie, it helps if you know a bit of baseball jargon, e.g., "to strike out" or "to steal a base." (Becky Tan)





Would you like to receive a list of all the current month's film releases -- with links to reviews by the KinoCritics -- delivered right into your email box? If so, click
here
to subscribe to the
KinoCritics Newsletter
. We'll email it to your inbox at the beginning of every month.