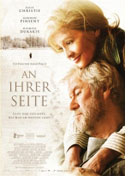 Through the eye of award-winning cinematographer Luc Montepellier, and with an intelligent screenplay, director Sarah Polley explores the topic of human memory in Away From Her. Polley's narrative eloquently explores a wonderment of what memory looks like and why its loss is so important to understand. She puts a vivid face on the growing issues that surround victims of Alzheimer's, their loved ones and the institutions that become primary caregivers.
The weathered but romantic 50-year-marriage of Grant (Gordon Pinsent) and Fiona (Julie Christie) is threatened with the disease called Alzheimer's. The portrayal of their matured love, sense of humor and tenderness becomes harder to hang onto as Fiona's memory loss increases. The uncanny wedge in their deteriorating relationship is an increased memory of Grant's unfaithfulness many years ago. The emotional roller coaster that Grant experiences is a hardly bearable penance. However, with the help of Marion (Olympia Dukakis) and her husband Aubrey (Michael Murphy), Grant makes a surprise discovery about the meaning of love, its non-traditional structure and the will to keep living.
Already a well-known Canadian actress, Polley earns the filmmaker's stamp of approval with her first feature, Away from Her. Polley was passionately driven to put her pen to paper for a screen write after reading Alice Munro's short story, The Bear Came Over the Mountain. She desired to direct the film because, in her opinion, the narrative was the most beautiful love story she had ever read. Away From Her premiered at the 2006 Toronto film festival and proved to be the darling of both critics and the general public. Her first feature debut and its fame spread throughout the world including the U.S. (Sundance Film Festival) and Europe (Berlinale) in 2007. (Karen Pecota)





Would you like to receive a list of all the current month's film releases -- with links to reviews by the KinoCritics -- delivered right into your email box? If so, click
here
to subscribe to the
KinoCritics Newsletter
. We'll email it to your inbox at the beginning of every month.