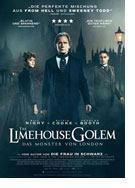 Producer Stephen Woolley invested fifteen-years making this film: four to acquire book rights, and ten-plus with more than two versions to get it right. After reading Peter Ackroyd's Dan Leno and the Limehouse Golem, Jane Goldman hoped to someday write the screenplay. Juan Carlos Medina's debut film Painless, 2012 proved his prowess, clenched by his ingenious vision for this film. That commitment to adhering to the novel's integrity is audiences' good fortune.
Inspector Kildare (Nighy) returns to examine brutal serial killings terrorizing London, with Constable Flood (Mays) assisting. In the infamous Limehouse district's poverty-clad back-alleys, an ostensible Golem is killing indiscriminately. Concurrently, Mrs. Cree's (Cooke) husband (Reid) is murdered, with Lizzie's legal situation becoming murky after a servant's (Valverde) remarks to investigating officers. During his inspecting, Kildare realizes the Limehouse's cases perhaps overlap with the Cree case. Questioning Lizzie, Kildare learns how her harsh background led to a particularly popular 1880 music hall, and the comedian of the day, Dan Leno (Booth). Uncle (Marsan) opens the music-hall doors and close-knit family of entertainers to Lizzie, and she meets her husband there. Moving from music hall to courtroom to Limehouse, the Inspector is intent on solving both cases if possible.
Atmospherically authentic, Simon Dennis' murky, moody clever cinematography exploits Victorian hardships, that Justin Krish adroitly edits employing audio reverberation, with Johan Söderqvist's neatly matched music. Kudos to the designers: production, art design, sets, costumes and hair, et cetera.
A predominately British cast deliver first-class performances: Nighy's deft proficiency (Their Finest illustrates comic skills); impressive, allusively alluring Cooke; memorable burlesque and depth confirms Booth's dexterity; the terrific Marsan's inscrutable Uncle; Reid and Valverde's enigmatical characters, et al. Dedicated to Alan Rickman who was signed to play Kildare, the film's company assure an aesthetically mesmerizing trounce through bygone horrors on par with Jack the Ripper. One thing about The Limehouse Golem that is certain, nothing is as it seems. "Here we go again!" 109 minutes (Marinell Haegelin)





Would you like to receive a list of all the current month's film releases -- with links to reviews by the KinoCritics -- delivered right into your email box? If so, click
here
to subscribe to the
KinoCritics Newsletter
. We'll email it to your inbox at the beginning of every month.