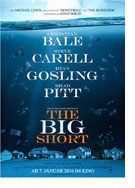 I wondered just how the fabulous book The Big Short could be made into a dramedy. I was also very skeptical of the casting as I had worked for over 20 years on Wall Street and no one I worked with looked like either Ryan Gosling or Selena Gomez. The financial crisis is also no laughing matter and the book certainly didn't portray it as such. I also could not fathom how a film could describe complicated financial products that even make seasoned bankers' eyes glaze over and make them understandable to laymen. I, however, found myself wowed by the engaging and oft times funny work that director Adam McKay, co-screenwriter Charles Randolph, editor Hank Corwin, cinematographer Barry Corwin and the terrific ensemble cast created. The film is both entertaining and educational, bringing humanity and scathing wit to what most would consider a dry subject.
Using amalgamated characters from the book, the cast portrays the guys who actually won by betting against what seemed to be an ever rising market. They range from Christian Bale's brilliant performance as Michael Burry (the only character whose name is retained from the book), two young fund managers, Finn Wittrock and John Magaro, who lure Brad Pitt's hermit-like ethical trader out of retirement; Steve Carell's manic and tortured portrayal of an investor whose cynical yet moral nature make him ill at the scope of the trade he is making; and the unrepentant Ryan Gosling as the Deutsche Bank mortgage specialist who provides a brilliant description of subprime mortgages and just how the house of cards is poised to drop. Littered throughout the film are well-placed vignettes featuring known personalities who provide the audience with a primer on the structured finance jargon. The film also includes a withering indictment of the rating agencies with a brilliant scene with Carell and his team interviewing Georgia, a senior analyst from Standard & Poor's (Melissa Leo, whose nuanced performances always deliver). Having worked at Standard & Poor's, I felt her pain as she was being grilled. Because there are so many brilliant cameos, it is no wonder that the ensemble cast has been nominated by SAG.
The frenetic pace of the film helps keep it from being preachy, with quick cuts and ever changing scenery. One cannot help but feel the moral outrage of the film makers and the shocked look on the faces of the two young fund managers as they walk around Lehman's deserted offices, as well as the quick cuts of foreclosures, families living in cars and scenes of financial devastation reminding us of just how dramatic the financial crisis was. But in this Hollywood version, they follow Oscar Wilde's wisdom - "If you want to tell people the truth, you better make them laugh; otherwise they'll kill you." (Laura Langford)


Second Opinion

Totally engrossing, exceptionally structured, fantastically acted, The Big Short promises a riveting cinematic venture. Albeit: its premise is terribly depressing, infuriating, and true. Americans barely noticed bond credit defaults, until thirty years on in 2008 when an economic collapse ricocheted around the world. Unless, of course, they were looking: four cynical outsiders and weirdoes were.
Michael Burry (Bale) in California is the first to look, and takes measures. Subsequently, Jared Vennett/ based on Greg Lippmann (Gosling)—"chicken little" to Deutsche Bank colleagues—notices and takes measures. Mark Baum/ based on Steve Eisman (Carell), and team listen to Vemmett's pitch; they take measures. Wall Street bankers gleefully sell Burry, then the others "insurance", i.e. bundled (worthless) mortgages. Concurrently, it is business as usual for the top echelons at Wall Street's robust financial institutions—Citigroup, Bear Stearns, Merrill Lynch, AIG Financial Products, Lehman Brothers, etcetera. As the bubble collapses and with the meltdown in full swing, two novices—working out of a garage—join in the free-fall, enlisting help from their caustic, perceptive friend Ben Rickert/ based on Ben Hockett (Pitt, also a producer on the film). The outcome ain't pretty, particularly for the millions of Americans who lose their dream… their home.
Based on Michael Lewis' non-fiction book of the same title, the big (money) short is what ultimately brought down global economies. Worth remembering is, we are watching real events, with bona fide citizens who are that smart, and financially adroit. Writer-director Adam McKay and Charles Randolph add humor—especially early-on before the enormity of the catastrophe sets in—and pathos into their screenplay to emphasize the crux of the debacle – indifference and greed in the world's free enterprise market forces. The cast deliver solid, unbeatable performances: the personalities, i.e. Selena Gomez, Margot Robbie, et al. look into the camera while explaining, in layman terms and settings, the intricacies of CDOs (collateralized debt obligation), subprime mortgages, and other monetary lingo. McKay's unique directorial approach, and Hank Corwin's distinctive editing have already won awards; the film is nominated for four Golden Globes. Nicholas Britell's clever music matches Barry Ackroyd's nimble cinematography. The pace is fast, relentless, and once The Big Short starts, you will not want to miss a second of the 131-minute stranger-than-fiction account, so be prepared. Reading the book now, I understand the premise better from having seen the film, which I could easily see again. (Marinell Haegelin)



| | |
| --- | --- |
| | A Toy Story – Alles hört auf kein Kommando (Toy Story 4) (2019) |
| | A Toy Story – Alles hört auf kein Kommando (Toy Story 4) (2019) |
| | All I Never Wanted (2019) |
| | Apollo 11 (2019) |
| | Avengers: Endgame (2019) |
| | |
| | Bis dann, mein Sohn (So long my Son, Di Jiu tian chang) (2019) |
| | Cunningham (2019) |
| | Das Kapital Im 21. Jahrhundert (Capital in the Twenty-First Century) (2019) |
| | |
| | |
| | Die Obskuren Geschichten eines Zugreisenden (Advantages of Travelling by Train, Ventajas de viajar en tren) (2019) |
| | |
| | Downton Abbey (2019) |
| | Drei Tage und ein Leben (Three Days and a Life, Trois jours et une vie) (2019) |
| | |
| | Jenseits des Sichtbaren - Hilma af Klint (Beyond The Visible - Hilma af Klint) (2019) |
| | Joker (2019) |
| | |
| | Limbo (2019) |
| | Little Women (2019) |
| | Niemals Selten Manchmal Immer (Never Rarely Sometimes Always) (2020) |
| | Niemals Selten Manchmal Immer (Never Rarely Sometimes Always) (2020) |
| | |
| | Official Secrets (2019) |
| | |
| | Pavarotti (2019) |
| | Rocketman (2019) |
| | Spione Undercover – Eine Wilde Verwandlung (Spies in Disguise) (2019) |
| | Sterne über uns (2019) |
| | The Dead Don't Die (2019) |
| | The Farewell (2019) |
| | The Gentlemen (2019) |
| | The Irishman (2019) |
| | TKKG (2019) |
| | |
| | Wir (Us) (2019) |
| | |
| | Yesterday (2019) |
| | 7500 (2019) |
| | 7500 (2019) |
| | |
| | |
| | Cortex (2020) |
| | David Copperfield - Einmal Reichtum und zurück (The Personal History of David Copperfield) (2019) |
| | |
| | Die Eiskönigin 2 (Frozen II) (2019) |
| | |
| | Jojo Rabbit (2019) |
| | |
| | |
| | Late Night (2019) |
| | Leid und Herrlichkeit (Pain and Glory, Dolor y Gloria) (2019) |
| | Maleficent: Mächte der Finsternis (Maleficent: Mistress of Evil) (2019) |
| | Mulan (2020) |
| | Parasite (Gisaengchung) (2019) |
| | Portrait einer jungen Frau in Flammen (Portrait of a Lady on Fire, Portrait de la jeune fille en feu) (2019) |
| | Roads (2019) |
| | |
| | Sorry We Missed You (2019) |
| | The Dead Don't Die (2019) |
| | The Kindness of Strangers - Kleine Wunder unter Fremden (The Kindness of Strangers) (2019) |


Would you like to receive a list of all the current month's film releases -- with links to reviews by the KinoCritics -- delivered right into your email box? If so, click
here
to subscribe to the
KinoCritics Newsletter
. We'll email it to your inbox at the beginning of every month.