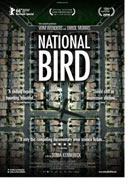 Three former Air Force analysists, Heather, Daniel, and Lisa, come forward in real whistleblower manner to report on their own, job-oriented actions which entailed sending military drones to attack sites in foreign countries, which were supposedly unfriendly to the U.S., although war was never declared. One of their jobs was to analyze photos of the intended sites in order to determine whether civilians would be endangered under a strike. Heather does not know the number of deaths for which she is responsible. Lisa said that with drones, borders no longer matter. We meet a family of 23 in Afghanistan which was attacked while innocently driving along. Several people were killed and some will be physically handicapped forever. We see real film material over and over again as the drones attack and the people far below run in all directions. Independent global news Democracy Now appears in the film, when it reports to its 700 stations, including TIDE television in Hamburg.
Billed as a U.S. film, National Bird is also German in that the director, Sonia Kennebeck, grew up in Hamburg, Germany. She studied in the U.S. and now divides her time between the U.S. and Hamburg. For the last 15 years, this 35-year-old, very attractive director, has had a successful career, filming for German television. This is her first full-length film, funded in part by the Filmförderung Hamburg Schleswig-Holstein. It premiered at the 2016 Berlinale and showed at the 2016 Filmfest Hamburg, which said that the film "gives the illusion that the U.S. believes that it performs a 'clean war'." (Becky Tan)





Would you like to receive a list of all the current month's film releases -- with links to reviews by the KinoCritics -- delivered right into your email box? If so, click
here
to subscribe to the
KinoCritics Newsletter
. We'll email it to your inbox at the beginning of every month.