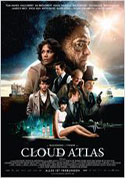 In this fantasy/sci-fi drama, a lawyer witnesses the horrors of the slave trade on the Pacific Islands in 1849. In 1936, a composer finds a journal about this journey while seeking help of a mentor to complete the symphony of his life. A journalist finds his letters as she uncovers a conspiracy involving nuclear power in 1973. The publisher of this story breaks out of a nursing home after discovering the worth of freedom in 2012. In 2144, a clone is inspired to deliver philosophical teachings by this break out. In a post apocalyptic world in 2346, a goatherd tries to make the right decision.
Cloud Atlas is about the exertion of free will and the development of conscience in a world where individuals are constantly forced to choose between unlimited personal power and the general good. Visually compelling and emotionally intense, we see the same actors playing different genders and races as reincarnating souls living the most base moments of human nature as well as the most heroic ones. Even with minor flaws, this philosophical movie is much greater than its parts, being deeply touching and inspiring. (Katia Trost)





Would you like to receive a list of all the current month's film releases -- with links to reviews by the KinoCritics -- delivered right into your email box? If so, click
here
to subscribe to the
KinoCritics Newsletter
. We'll email it to your inbox at the beginning of every month.