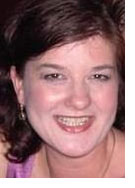 Kirstan Böttger
Kirstan Böttger has spent the last 16 years dwelling in Hamburg, denying the fact that her life has been well established here: a reluctant expatriate. Born and raised in Pennsylvania in the U.S.A., she moved to New York City after graduation from Miami University with a B.F.A. in textile design in her pocket. Starting with one month's rent and determination, Kirstan spent the next 5 years as a busy Manhattanite, enjoying a career as a designer for F. Schumacher and Ralph Lauren.
A long-time film lover with an uncanny memory for trivial movie details, she pursued her habit by taking in the N.Y. offerings from art-house theaters to the Loews multiplex on the upper West side. She has fond memories of waiting in long theater lines, only to find the person in front of her bought the last seat, back in the good old days of non-existent online booking. The N.Y. movie experience is a hallmark of the last century, and the wait on freezing winter days can only be surpassed by the reward of a full theater of die-hard film fans, competing as the pre-film trivia questions flash on the screen and savoring the seat so well-deserved.
After following her German fiancé to Hamburg, full-time design work at JOOP! GmbH still allowed for film time on the weekends. Although the changes of viewing in Germany were disappointing at first, Kirstan has come to terms with the fact that new releases here aren't so new in U.S.A., there are no trivia games for early arrivals, and salted popcorn is far from the norm. Nowadays, computer/telephone booking has eliminated the long lines, and the 20 minute commercial/preview time is great for those who can never find a parking space. Although not as much the norm as say, Paris, original version films can be found and and are much appreciated by this critic who hates dubbing, in any language. With 3 kids and a career, Kirstan has a tough time getting out to the movies like her New York days, but the invention of the DVD has brought home many of the missed opportunities to see the flicks in Original Fassung. Better late than never!
Film reviewing has been a source of challenge and enjoyment for her as she is not easily swayed from talking about films to actually writing about them. A well-made film is one of the most rewarding experiences in her eyes: a mesh of visual and auditory delight. Kirstan believes the most successful films are those that carry a message that you may not even realize you have received until much later contemplation.
Films Reviewed by Kirstan Böttger