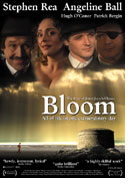 Opening 16 Jun 2005
Directed by: Sean Walsh
Writing credits: James Joyce
Principal actors: Stephen Rea, Angeline Ball, Hugh O'Conor, Neilí Conroy, Eoin McCarthy
It is no coincidence that this film opens in Hamburg on June 16, marking the 101st anniversary of "Bloomsday," a longstanding cult celebration date for Joyce fans and Dubliners.
Bloom is an ingenious adaptation of James Joyce's novel Ulysses, a massive masterpiece, "...the mere mention of the name brings shudders of academic insecurity." Quoting its Irish director Sean Walsh, Bloom or bl,.m is "the story of three peoples' lives on a single day in Dublin, June 16, 1904."
Leopold Bloom (sensitively portrayed by Stephen Rea of The Crying Game and Interview with the Vampire) is an Irish Jew, a rarity in Dublin of 1904, going about his daily routine. We view his journey with a voiceover narrative technique that allows us also to experience where he really lives, in his thoughts and fantasies, as he encounters racism, his debilitating guilt from the loss of his child, etc., which shut down much of his external emotions.
His journey starts and ends with his extremely erotic wife, Molly (joyously played by Angeline Ball of The General and The Commitments), the second of the three people, who seems his exact opposite and on whom he dotes, despite her "indiscretions," to an almost masochistic degree.
The third main character, Stephen Dedalus (Hugh O'Conor of My Left Foot and Chocolat), whose beautifully sculpted face personifies a blonde Frodo, is the young school teacher who expounds his theories best when intoxicated.
The film's rich language is the best treat, referring to mythology, sex, racism, church, and politics in a stream-of-consciousness style that is very natural, fresh and feels contemporary. This is a real credit to Joyce, as there is no film credit for a screenwriter, implying the dialogue is directly lifted from his novel. Highest ratings for this artful film! Walsh describes the title bl,-m as a play on typography! (Nancy Tilitz)