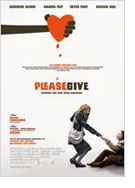 Opening 8 Jul 2010
Directed by: Nicole Holofcener
Writing credits: Nicole Holofcener
Principal actors: Rebecca Hall, Elizabeth Keener, Elise Ivy, Catherine Keener, Josh Pais
Black comedies tend to be based on eccentric improbabilities or circle the truisms of life with vulture-like scrutiny that can leave an audience both entertained and ill at ease. Please Give is the latter. New Yorkers Kate (Catherine Keener) and Alex (Oliver Platt) share everything: an expensive trendy up-town retro-furniture store, a moody, pimply 15-year old daughter Abby (Sarah Steele), a great apartment, and a quality lifestyle. But Kate feels guilty; she and Alex buy their furniture from the unsuspecting kids clearing out apartments of deceased elderly parents. In self-reproach Kate relentlessly gives money to the homeless, yet not to a begrudging Abby, and tries to volunteer with the elderly and handicapped.
Kate and Alex purchase the neighboring apartment with plans to knock out walls and enlarge their flat. Just one hitch: they have to wait for cranky 91-year-old Andra (Ann Guilbert) to die. In good faith, Kate arranges a birthday dinner for Andra and her two granddaughters: sweet caring, dutiful Rebecca (Rebecca Hall) and sultry, caustic Mary (Amanda Peet), who maneuvers the conversation to their planned renovations whilst watching Granny cringe in her chair. Later Alex unconcernedly admits to Kate he flirted with Mary, but after they begin an affair, the intrigue is replaced by his guilty doubt.
The characters in writer/director Nicole Holofcener's acerbic scrutiny of relationships and guilt are basically good decent people; some are downright likeable. And the nonpareil N.Y. quips about everything from death to boobs to acne to material greed are funny. A great cast delivers strong performances with just the right pinch of pathos, and the production values are first-rate.
Please Give focuses on humankinds' foibles; although imbued with humor, the degree to which you appreciate the fundamental poignancy in this film will hinge on your own life experiences and expectations. (Marinell Haegelin)