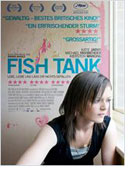 Opening 23 Sep 2010
Directed by: Andrea Arnold
Writing credits: Andrea Arnold
Principal actors: Katie Jarvis, Rebecca Griffiths, Carrie-Ann Savill, Toyin Ogidi, Grant Wild
Mia (Katie Jarvis) is fifteen and lives on a sink estate with her mum Joanne (Keirston Wareing) and her little sister Tyler (Rebecca Griffith). All three drink heavily, smoke and swear enough to make a sailor blush. Add Connor (Michael Fassbinder) to the mix, Mum's new boyfriend who displays an unhealthy interest in Mia, and you know that this movie isn't likely to have a happy ending.
Placement at a boarding school for problem children and the removal from her dysfunctional family might have been Mia's salvation. She aspires to become a dancer, however, tears up the information about the school and spends her time gyrating to rap music. When she sees an ad for an audition for dancers she sends off her C.D. Her dancing dreams are ended when she realises that the audition is for strip club dancers.
Near her home a caravan is parked on waste land and a horse is tethered close by. Three unruly teenagers live in the caravan and attack Mia when she tries, for reasons unexplained, to set the horse free. She becomes a friend of sorts to the least aggressive brother Billy (Harry Treadaway). They drink together, and Mia keeps a lookout when he steals a part for his car.
After Connor has committed his criminal act and Mia accepts that a career as a porno dancer is not for her, she decides to go away with Billy, who plans a trip to see friends in Wales. Off she goes, perhaps already pregnant but almost certainly condemned to continue the cycle of misery she was born into.
British audiences devour TV soaps showing families like Mia's every night of the week, albeit without the obscene language and graphic sex, so it seems strange that director Andrea Arnold should make a movie in the same vein and then find it praised so extravagantly. Fish Tank was given the Jury Prize in Cannes in 2009 and received an outstanding British Film Award in 2010. This is a movie about hopelessness, and it is uncomfortable to watch, partly because of the subject matter but also because much of it was filmed with a hand-held camera. If you want a fun evening at the movies then give this one a miss. (Jenny Mather)