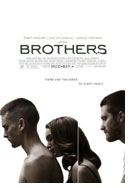 Opening 27 Jan 2011
Directed by: Jim Sheridan
Writing credits: David Benioff, Susanne Bier, Anders Thomas Jensen
Principal actors: Tobey Maguire, Jake Gyllenhaal, Natalie Portman, Sam Shepard, Mare Winningham
Jim Sheridan directs Tobey Maguire, Jake Gyllenhaal and Natalie Portman in a family drama surrounding the return home of an Afghan war veteran. Screenplay by David Benioff.
Brothers Sam and Tommy Cahill (Maguire and Gyllenhaal) are anything but two peas in a pod. Sam is a Marine, the pride of his Viet Nam veteran father's (Sam Shephard) eye, husband to Grace (Portman) and father of two children, while Tommy, the black sheep in the family, has just been released from prison.
The brothers meet up for a farewell dinner marking Sam's return to Afghanistan on another tour of duty. Within brief weeks of his departure, the fateful news arrives – Sam's helicopter has been downed by enemy fire: Sam is dead. The whole family goes into shock, and Tommy finds himself unexpectedly growing into the role of uncle and emotional support for Grace and the two little girls. The shock is compounded when, a few months later, it turns out that Sam is not dead. After being held prisoner in appalling and psychologically devastating conditions, he has been rescued and is coming home. The home-coming, however, turns into a disturbing drama that threatens to tear the family apart...
Brothers brings us the tragic story of the return of a war veteran suffering from serious post traumatic stress disorder. The three main characters are convincingly played by Maguire, Gyllenhaal and Portman, but my hat really went off to Bailee Madison, who played Sam's eldest daughter, Isabelle.
Editor's Note: This film is an American remake of the 2004 Danish film Brødre. (Osanna Vaughn)