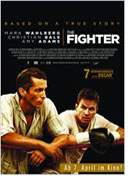 Opening 7 Apr 2011
Directed by: David O. Russell
Writing credits: Scott Silver, Paul Tamasy, Eric Johnson, Keith Dorrington
Principal actors: Mark Wahlberg, Christian Bale, Amy Adams, Melissa Leo, Mickey O'Keefe
Lowell, Massachusetts: recipient of the 1999 All-American City Award, birthplace of Jack Kerouac, and, a favorite of filmmakers. Robert Mandel shot opening scenes for School Ties (1992) and HBO's documentary High on Crack Street (1995) was filmed here, as was Ricky Gervais's The Invention of Lying (2009), to name a few. Now Lowell is ringside and center as home to Richard Eklund and "Irish" Micky Ward in the 2010 biopic The Fighter. Dicky, former professional boxer in the Welterweight division and New England Welterweight Champion, was instrumental to half-brother Micky, retired junior welterweight professional boxer, a World Boxing Union champion and featured in Fight Night Round 3, a boxing video game.
That being said, one of Lowell's own, Mickey O'Keefe, a sergeant with the Lowell Police Department, was Micky's mentor and plays himself as trainer to Micky Ward, played by Mark Wahlberg, who trained four years for this film and fought the fights. His strong, restrained performance counter-balances Christian Bale as the agitated, drug addicted Dicky. Bale lost weight, noted Dickey's mannerisms and speech: "Dicky has a whole rhythm to him, a music. Christian had to understand how his mind works", says the director, and there is footage during the end credits whereby we catch a glimpse of the brothers.
Melissa Leo captures the dictatorial control Alice Ward (seems to have) wielded over her nine children. Nice, quiet Micky is easy to deal with and compliant to their whims concerning his boxing career until Amy Adams as equally strong-willed, smart and feisty Charlene Fleming pops up. Charlene gave Alice and the bevy of seven sisters as good as she got, and there are scenes the gals win, hands down.
Director David O. Russell tells the family story with intelligence, sensitivity, and lots of humor, which draws us in and has us rooting, never mind if you have an aversion to boxing. Authentic fight footage is intercut, and the "home movie" effect is cleverly used to give us background information. No wonder film editor Pamela Martin is an Oscar© nominee; she cut this film so brilliantly, we were at the end of the film when I realized I had been there before. We are all in the winner's circle at the end of this very entertaining, very well crafted boxing film that venerates brothers' love and a family's bond, and establishes the current Pride of Lowell. (Marinell Haegelin)