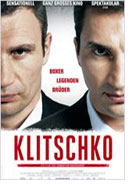 Opening 16 Jun 2011
Directed by: Sebastian Dehnhardt
Writing credits: Sebastian Dehnhardt

Klitschko is a captivating documentary about parallels: Vitale and Wladimir, history-making Ukrainian brothers. Both are defending a world boxing title held since 2008; both have PhDs, speak four languages, are avid chess players, work for the UNESCO (United Nations Educational, Scientific and Cultural Organization) and have founded children-focused charities; both seem really really nice, are over 6' 6" (1.98 m) tall, and, both listen to mama.
Sons of a Soviet Air Force Colonel and working mother, Vitale was responsible for his younger-by-five-years brother, Wladimir. Their parents were strict (both brothers agree), and when Vitale became involved in kick boxing, then boxing, it stood to reason Wladimir would follow. Vitale's style is unorthodox, "he fights like a cowboy" with incredible reactions, terrific reflexes; Wladimir boxes intelligently, classic in style with an incredibly unique and controlled left jab.
Legendary boxer Max Schmeling advised Vitale, if he was serious about boxing professionally, to box in the USA. In 2003 Vitale a.k.a. Dr. Ironfist lost his shot at the WBC and IBF Heavyweight titles to Lennox Lewis – "Lennox (Lewis) won the fight but Vitale the event," i.e. the hearts of American fans. After Wladimir's loss of the WBO belt in an upset to Corrie Sanders in a 2003 match, "Dr. Steelhammer" says, "I was always on top, now (I was) on the bottom…" and so he picked himself up and started over.
The crux of this film's value is in the genuinely honest, sincere manner that this close-knit family shares their life story. Their similarities, and, "They are very different: When Vitale decides to do something he finishes it, Wladimir is more cautious, more diplomatic" says Natalia, Vitale's wife. Director Sebastian Dehnhardt and team spent two years filming; a plethora of family and archival visual information, and interviews with trainers, opponents, and friends add to the multi-faceted backdrop. Production values are strong, however, having started with German subtitles, mixing in voiceover is distractingly annoying. Now boxers and fans want the brothers to fight one another. Will they? See Klitschko; as you will learn, the "ruling" comes from above. (Marinell Haegelin)


Second Opinion

Filmmaker Sebastian Dehnhardt has given a nice face-lift to the world of professional boxing in his latest debut Klitschko. Dehnhardt's documentary invites the film audience to examine the sport through the eyes and ears of Germany's famous Klitschko brothers, Vitali and Wladimir. It is an inside story revealing the type of wisdom and integrity needed to rule, reign and remain a respected role-model in the manly activity.
Dehnhardt shares the origin of the close-knit Klitschko family of four and the events that prepared their boys for a career in professional boxing. The Ukrainian family moved to Germany in 1996 for personal reasons, but the effects of Chernobyl played a role, as did his father's position in the Soviet military. Growing up, the two Klitschko brothers excelled in many areas but gravitated to the sport of boxing while earning PhD's and language degrees. Mama Klitschko wanted her boys to be happy and supported their efforts in pursuit of the professional sport; but, she wanted no part of hearing about its dangers. To this day the brothers regularly call to check-in with Mama before and after a fight but the gruesome details or concerns are spared.
Dehnhardt exposes the tale of two brothers and their struggle to hang on to a tough-guy passion. Through their brotherly love and personal crisis, together the two take on the traditions of the professional boxing world for survival and the world champion title in heavy weight boxing. The smart ones do have the edge! (Karen Pecota)