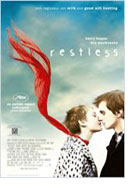 Opening 13 Oct 2011
Directed by: Gus Van Sant
Writing credits: Jason Lew
Principal actors: Mia Wasikowska, Henry Hopper, Ryo Kase, Schuyler Fisk, Lusia Strus
Restless is director Gus Van Sant's first film since Milk was nominated for eight Oscars three years ago. My expectations were high. I have been a big fan since his 1990's gems, My Own Private Idaho, Drugstore Cowboy, and, of course Good Will Hunting. Elephant was stunning. No one can put that quirky, edgy spin on teenage angst quite the way Gus Van Sant does. I really wanted to like this film. I really did. So it pains me to say that Restless falls flat.
Mia Wasikowska, who you may remember from Tim Burton's Alice in Wonderland, stars as Annabel Cotton, a terminal cancer patient. At the funeral of a fellow patient she meets funeral-crasher Enoch Brae, played by Henry Hopper (Dennis Hopper's son making his acting debut). He is dealing with his parents' fatal car accident by withdrawing from life, accompanied by his best friend Hiroshi, the ghost of a WWII Japanese fighter pilot. Drawn to each other by death as a common bond, a friendship forms, and Enoch offers to help Annabel prepare for her imminent passing. Together they visit graveyards, talk to ghosts, act out dramatic endings, and look very cool in a Portland, OR, vintage-clothes kind of way. Oh, and they, of course, fall in love.
This sounds promising, I know. And it could have been very charming and meaningful. The actors are likeable and interesting.The film has a great look. But it also has some glaring irritations. First, what is this Japanese fighter pilot ghost doing in the film? He is random and odd, and doesn't add anything to the story. Next, why is Annabel so flippin' perky, unaffected and healthy-looking?
But the biggest irritation is that this situation has so much potential that unfortunately goes unfulfilled. There are not enough playful, irreverent escapades to make this a live-life-to-the-fullest, kamikaze adventure. It's not funny enough to be a morbid comedy. There is not enough emotional connection to make it a Love Story tragedy. Its not intelligent enough to be a Harold and Maude. There is no lesson, moving conclusion or meaningful resolution that makes the journey worthwhile. Isn't that what a good death movie is supposed to be about? Instead, I just found myself glancing at my watch, hoping they would get it over with and kill her off. (Shawn Klug)