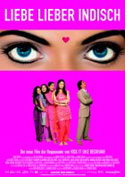 Liebe Lieber Indisch (Bride and Prejudice)
U.K./U.S.A. 2004
Opening 18 Aug 2005
Directed by: Gurinder Chadha
Writing credits: Jane Austen, Paul Mayeda Berges, Gurinder Chadha
Principal actors: Aishwarya Pai, Martin Henderson, Nadira Babbar, Anupam Kher, Naveen Andrews
Jane Austen would have enjoyed Gurinder Chadha's adaption of her novel Pride and Prejudice. As this is one of Britain's best-loved classics, it must have taken courage and imagination to contemplate turning it into a Bollywood movie.
Ms. Chadha explored human prejudices in her best-known film, Bend It Like Beckham, and here she has transferred eighteenth century concerns about class status to present day ones about money. In the novel, Mrs. Bennet knew that she had to marry off her daughters to wealthy men because women were entirely dependent on them; the rigid strictures of upper and middle class life forbid women to work and earn money themselves. In the movie, Mrs. Bakshi (Nadine Babbar) is faced with the task of marrying off her daughters to rich men who will keep them in the wealthy manner to which they are accustomed.
Mr. Darcy (Martin Henderson) is a wealthy Englishman whose friend – the rather silly Mr. Bingley in the novel – is now a rich Indian called Balraj (Naveen Andrews). Balraj falls in love with the eldest Bakshi daughter, and this leads to much dancing and singing in the streets of Amritsar, where the Bakshi family lives. The second daughter, Lalita (the beauty Aishwarya Raj), captures Mr. Darcy's attention and also that of Mr. Kholi, a buffoon who has made it big in L.A. The audience is treated to wonderful views of the USA when he settles for second best and marries Lalita's friend Chandra there, amidst more singing and dancing.
Wickham, the bounder, is now Johnny Wickham (Daniel Gillies). He catches Lalita's eye first but his attention is soon taken up by the next sister, Lakhi (Reeya Rai Chodhuri). Lakhi doesn't suffer the same fate as Lydia Bennet and is brought to her senses by Darcy and Lalita after a picturesque chase through London's leading tourist attractions. This chase is the catalyst which unites Darcy and Lalita and leads to a lot of romantic singing and dancing. In the novel, the fourth sister, Mary, embarrassed the Bennet family with her amateurish piano playing and singing; here Mary becomes Maya (Meghnaa Rai Chodhuri), who performs a frenetic cobra dance for Darcy, Balraj and his sister with similar results.
The movie is based on Bollywood principles which forbid any contact between the sexes, so instead of kissing there's lots of vigorous dancing, which gives the movie a charming air of old-fashioned innocence. The actors' habit of breaking into song and dance now and then could be tedious to modern audiences, but it's saved by the lively choreography and the colourful costumes which everybody changes into every five minutes. Ms. Chadha has given us a perfect piece of escapism to enjoy on a cold, grey, rainy afternoon at any time of the year, even if you haven't read the book. (Jenny Mather)