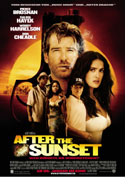 Opening 6 Jan 2005
Directed by: Brett Ratner
Writing credits: Paul Zbyszewski, Craig Rosenberg
Principal actors: Pierce Brosnan, Salma Hayek, Woody Harrelson, Don Cheadle, Naomie Harris
Brett Ratner directs Pierce Brosnan, Salma Hayek and Woody Harrelson in a comedy action caper, set on Paradise Island in the Bahamas.
Max Burnett (Brosnan) and his beautiful partner Lola (Hayek) are master thieves, and they have just completed their finest coup: the robbery of the second (they already have the first) of the three incredible Napoleon diamonds. Now it's time to retire and consider marriage vows, and Paradise Island is the perfect setting for a life of well-deserved… tranquillity. However, people's idea of paradise varies: Lola is thoroughly delighted with everything the island has to offer, but Max soon wearies of yet another stunning sunset.
Excitement returns into Max's life with the appearance of Stan (Harrelson), the FBI agent who has hounded his steps for the last seven years and who is convinced Max's thieving days are not over; especially as "by coincidence" a luxury cruise ship has just docked for a week at the island, and the third Napoleon diamond is being exhibited on board.
In spite of Lola's refusal to get involved, Max feels compelled to rise to the challenge: to steal the third diamond and outsmart Stan one last time. But, is that what really happens…?
After the Sunset is a light-hearted and entertaining way to spend a few winter hours out of the cold. The characters are relaxed and likable even if the focus on Hayek is all sexual, though harmless. However, as one of the male attendees said: "that's what the guys are expecting". (Osanna Vaughn)