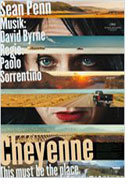 Cheyenne - This Must Be the Place (This Must Be the Place)
Italy/France/Ireland 2011
Opening 10 Nov 2011
Directed by: Paolo Sorrentino
Writing credits: Umberto Contarello, Paolo Sorrentino
Principal actors: Sean Penn, Frances McDormand, Judd Hirsch, Eve Hewson, Kerry Condon
This Must Be the Place succeeds in releasing feelings of anguish and delight, doubt and fulfillment through its quirky and genuine personalities to captivate our unwavering attention. The origin of director Paolo Sorrentino's idea, who with Umberto Contarello co-wrote the screenplay, is the Talking Heads hit from which the title takes its name. The story's philosophical views and physical characteristics correlative an essence that represents one word – Home.
Sean Penn personifies the wealthy aging rock star Cheyenne: 20 years after breaking up his band, he is still clad in black, with black blowzy hair, rimmed eyes, nails, and carmine lips. He shuffles along, whether weighed down by the shopping cart, later a suitcase, he perpetually tows, or, the weight of what he has not fulfilled in his life. Despite 35 years of marriage, Jane (Frances McDormand) has the strength and tenacity to (try to) elicit his best. She works as a firefighter, overhauls the car, and lets him win at squash so he "will feel like a stud." Yet Cheyenne's naiveté and honesty is bereft Mary's (Eve Hewson) only anchor; for three months her mum (Olwen Fouere) has sat daily at their row-house window waiting for son Tony's return. During one visit, Mum encapsulates Cheyenne's persona, "… you remained a child." When a letter arrives that his father, from whom he has been estranged for 30 years, is dying and with Jane's blessing, albeit not relinquishing his fear of flying, Cheyenne sails from Ireland, arriving in New York in time for the funeral.
An Auschwitz concentration camp survivor, Cheyenne's father's two notebooks detail his search for ex-Nazi guard Aloise Lange (Heinz Lieven). Through cousin Richard's (Liron Levo) coaxing, Cheyenne contacts the legendary former-Nazi hunter Mordecai Midler (Judd Hirsch) and an uncertain union is formed. We get a glimpse of Cheyenne's inner demons in his exchange with David Byrne (Himself) concerning why someone so gifted is still a friend, when Cheyenne only wrote depressed songs for depressed young people with depressing results. Nevertheless, he borrows a trusting friend's prized truck, sidesteps Jane's worries, and drives off on an odyssey that traverses Michigan, New Mexico, Utah, and beyond, where only snow-clad desolation prevails. Where Cheyenne ascertains a life dedicated to revenge is not really living. And with equanimity, concludes a just resolution: Cheyenne finally identifies the key to his soul, and understands that this must be the place.
A story this thick demands a lot from an editor, and Cristiano Travaglioli meets the challenge. However, it is Luca Bigazzi's cinematography that is beguiling and mesmerizing and catches the pathos and humor from angles that guarantees one will pause, and want to see This Must be the Place again. (Marinell Haegelin)