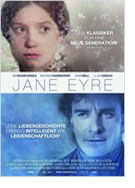 Opening 1 Dec 2011
Directed by: Cary Fukunaga
Writing credits: Charlotte Brontë, Moira Buffini
Principal actors: Mia Wasikowska, Michael Fassbender, Jamie Bell, Sally Hawkins, Su Elliot
Charlotte Brontë's 1847 novel Jane Eyre has inspired numerous film adaptations. In the original book 'Jane' recounts her life in a linear narrative: as a young orphan she is taken in by relatives who dislike and mistreat her. They rid themselves of her, sending her off to 'Lowood School' where she suffers more hardship and sorrow. Put down and stepped on she never loses her self-respect, never feels undeserved, is never afraid to speak her mind. At 18 she finds employment at 'Thornfield Hall' as governess to Adèle, the charge of Mr. Rochester, ill-tempered master of the house. Mr. Rochester and Jane find in each other a kindred spirit and – against all odds and conventions – fall in love. Circumstances come to light that make it unbearable for Jane to stay. In desperation she slips away before dawn – without money, prospects or destination.
Director Cary Fukunaga / scriptwriter Moira Buffini chose this as the opening scene. From here the story is told in flashbacks until it picks up again at this point. An interesting concept – but here it disappoints: they send 'Jane' (Mia Wasikowska) stumbling through wilderness, throwing herself to the ground – (painfully bad acting) – leaving us clueless as to what this could possibly be about. Strangely it doesn't spark any compassion – not this scene, not any other. Brontë lets 'Jane' give a remarkably unsentimental account of her difficult life; it is nevertheless heartbreaking to read. While an overly sentimental adaptation wouldn't do either, it should make us feel the pain and injustice and the social criticism that is at the core of this novel. Especially Rochester's part (Michael Fassbender) is undeveloped. Learning details about 'Adèle' could have revealed that this bitter and harsh man can be as principled and upright as Jane. Insufficient orientation is provided for the flashbacks following the opening scene. It's preferable to read the book until someone gives this another try – at the same wonderfully authentic location, with the same cast – including the always-wonderful Judi Dench as Mrs. Fairfax and an interesting Jamie Bell as St. John Rivers, but with new script and direction. (Carola A)


Second Opinion

When you are asked to remake a popular film classic, you must wonder, how to take a Victorian novel which has been made into a golden oldie of the cinema world and make it seem fresh and new for today's audience? The clever young American director Cary Joji Fukunaga answered that question by re-arranging the sequence of events and engaging the viewer's attention from the start. He has made a wonderful movie which has captured the essence of the early Victorian era in the northern part of Britain in Yorkshire County. The colours of the countryside, the tremendous social divisions of the times and the rather hysterical events of the story are handled sensitively by Mr. Fukunaga's camera.
The audience is captured from the beginning because we first see Jane as a young woman. She is running away from Mr. Rochester and Thornfield Hall. As she crosses the bleak, misty, muddy Yorkshire moors the atmosphere of the story is set and Mr. Fukunaga is ready to show us his version of the story.
Jane (Mia Wasikowska) was sent to a boarding school by her cruel aunt who misunderstood the proud but unhappy little orphan entrusted to her care. When she grew up she left it to become governess to Mr. Rochester's little French ward. It goes without saying that Mr. Rochester is rich and owns an enormous house. The housekeeper (Dame Judi Dench) explains that the mysterious Mr. Rochester (Michael Fassbender) is rarely at home and prefers to live abroad. Jane is half in love with him before they even meet. When he returns home from France he, of course, falls in love with Jane and they decide to marry, but, as in all the best Victorian novels, there is a shocking secret which will one day be revealed, but in the meantime proves to be an insurmountable obstacle to their marriage, and Jane must leave Thornfield Hall and her hopes of happiness.
Jane's journey across the moors ends in her falling into the arms of an earnest young vicar (Jamie Bell) and his kindly sisters, who nurse her back to health after the trauma she has suffered. Jane receives another offer of marriage which is so different from the first one. She declines it because she has no wish to become a missionary wife and be carried off to Africa. Something, someone is calling, calling to Jane across the moors and like all good heroines, she feels compelled to heed that call. Suffice it to say that Jane will be happy. The old story has become fresh again, Jane's honesty and goodness are rewarded and a new generation will enjoy an old story, thanks to Mr. Fukunaga's clever directing. This is a most delightful movie which is satisfying in every way. (Jenny Mather)