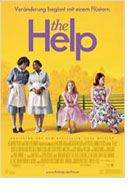 Opening 8 Dec 2011
Directed by: Tate Taylor
Writing credits: Tate Taylor, Kathryn Stockett
Principal actors: Emma Stone, Viola Davis, Octavia Spencer, Bryce Dallas Howard, Jessica Chastain
Tate Taylor brilliantly adapted Kathryn Stockett's novel The Help through his screenplay and direction. Having read the book, the film version takes liberties with events in the novel's timeline and some characters' situations necessary to visual storytelling; these did not impede, and I was equally impressed with the film.
Aibileen Clark (Viola Davis), who has raised seventeen white folks' kids and whose voiceover introduces us to the young society women in 1960's Jackson, Mississippi, gets 95¢ / hour to mind Mae Mobley (Emma Henry); she gives Baby Girl extra doses of loving since "the birthing blues got a hold" of Miss (Elizabeth) Leefolt (Ahna O'Reilly). Miss Hilly (Bryce Dallas Howard), dictatorial self-appointed manners-maven, and crusader extraordinaire of her Home Help Sanitation Initiative whereby every household installs a separate toilet for their colored help, had a baby and "everyone at that bridge table had to have one too". Yet Missus Walters (Sissy Spacek), Hilly's mama, is refreshingly down-to-earth. Recent college graduate Eugenia "Skeeter" Phelan (Emma Stone), resolute on becoming a writer, is euphoric when the Jackson Journal hires her, at $8/week, to write the Miss Myrna weekly cleaning advice column. Which obviously she knows nothing about, scoffs mom Charlotte (Allison Janney), who religiously voices her foremost concerns that Eugenia dress properly as well as find a husband. Skeeter would rather hear why her beloved maid Constantine (Cicely Tyson) quit and moved to Chicago just before Skeeter returned from college.
Not to be dissuaded, Skeeter asks Aibileen, naturally with Elizabeth i.e. Hilly's consent, for assistance. A fragile footing is founded: Skeeter writes the column via Aibileen's profound wisdom until, through external circumstances, the idea to write a book from the perspective of the black women who look after prominent local white families is born. The project gets off the ground—to the consternation of the stalwart black community—and realizing more stories are needed, Aibileen asks best friend Minny to get involved. Minny "best cook in Hinds county" Jackson (Octavia Spencer), is fired by Hilly, hence ostracized by her cohorts. She can only find work with, outsider as ordained by Hilly, Celia Foote (Jessica Chastain). Celia needs all the help she can get to take care of (Hilly's ex-boyfriend) Johnny (Mike Vogel) and their antebellum home.
Intrinsic to the multi-layered and textured story is societal prejudices that exist, not just the black / white skin color issue, and especially in the early 1960s. Jackson, state capital of Mississippi, 1960 population was 144,422 (as compared to Atlanta, Georgia's 487,455), was a small city entrenched in long-held traditions and class separations that are not exclusive to cities, or the south. With the civil rights activism throughout the '60s, Jackson underwent dramatic changes, and growth, with the eyes of the nation on it. Even though some things have changed—women's dress, career goals, and the marriage-as-a-rite-of-passage mentality, The Help invites one to reexamine perceptions, prejudices, and expectations. Indomitable Aibee's mantra to Baby Girl is one with universal resonance: "You is kind, you is smart. You is important". (Marinell Haegelin)


Second Opinion

A first-time novelist, Kathryn Stockett, who never gave up looking for the right literary agent, a tenacious film director, Tate Talyor, and a new song by Mary J Blige transforms an unforgettable motion picture production onto the big screen in The Help. Five years in the making and sixty rejection letters from literary agents, first time novelist Kathryn Stockett asks childhood friend and now filmmaker Tate Taylor to critique her manuscript. She knew her friend would give honest advice to either give up on the project or seek other options for publication. Taylor devoured the document called The Help. His reaction to Stockett, "This is fantastic; you cannot give up… this will be published. If it doesn't, I'll make it into a movie." As we now know the rest is history. In 2009, The Help was published by Penguin Books. A passionate literary audience allowed it to stay on the New York Times bestseller list for 103 weeks running and six of the weeks were in the No. 1 spot. Taylor and mutual friend, producer Brunson Green, worked to acquire the film rights to The Help (with Stockett's blessing, of course) while Taylor began to adapt the novel into a screenplay. The most difficult job Taylor addressed was to get the first 200 pages of the novel into 20-25 minutes of the script. He lived and breathed Stockett's story not from reading it more than thirteen times, but mainly because he was from Jackson, Mississippi. He understood the racial tensions that frightened and paralyzed communities. Though Stockett and Taylor were raised in the '70s—unlike The Help's characters of the '60s—racial discrimination was still visible for their generation to observe. Taylor worked hard to write a script worthy of Stockett's message. The box office sales tells us that his hard work paid off to write one of the most intelligent scripts for a big screen project to date.
Stockett's story begins in the 1960s when one of Jackson, Mississippi's hometown girls, Eugenia "Skeeter" Phelan (Emma Stone) returns home, as a college graduate, to find work. Skeeter earned a degree in journalism with aspirations to become a writer. Unlike her married high-society girlfriends from the Jr. League society, Skeeter follows her dream. In spite of her singleness, is hired by the local newspaper to write the Miss Myrna cleaning-hints column, Skeeter shares her good fortune at the Jr. League Bridge group only to be ridiculed. They can't imagine Skeeter knowing what they know about a clean household if not married nor raising children. Feeling shunned she ignores the unkind remarks though in reality she knew some truth was behind their words.
Overwhelmed by the backlog of letters for the Miss Myrna column, Skeeter seeks help. Skeeter needed advice from a professional and who better to ask than those she knew in the hired help business. She asks Aibileen (Viola Davis) who is the hired help of girlfriend, Jolene French (Anna Camp). Her column needed the best expertise available. Skeeter wanted to enlist her own family's hired help, Constantine (Cicely Tyson), but she had moved away before Skeeter returned from college. Though saddened by the absence of Constantine, Skeeter needed immediate help because her job was on the line. Jolene reluctantly allows the working arrangement between the two until long-time friend, Hilly Holbrook (Bryce Dallas Howard) interferes. Appalled at the frightening and inhumane treatment toward the hired help her girlfriends employ, Skeeter births an idea for her first literary masterpiece. She attempts to tell about life from the perspective of the hired help employed by the white households in Jackson, Mississippi. This is a scandalous venture! Nothing like it had been written prior and though the book editor from New York is sceptical, that Skeeter can pull it off, she remains open and encourages her to proceed. Skeeter's bold and courageous idea seems providential and with the rise of Martin Luther King's popularity; she knows she has a story.
Her task is to recruit the right people willing to put their jobs (and possibly their lives) on the line to tell their stories. The horrific discrimination toward the black community from portions of Jackson, Mississippi's white community is driven by an evil force beginning to spiral out of control. Change is imminent but at what cost? The educated and optimistic Skeeter embarks on a group project in secret with hired help, Aibileen and Minny (Octavia Spencer) who is Aibileen's outspoken best friend. Skeeter is confident positive change will come by documenting their stories and getting them right. And, for some white folk, it's payback time! (Karen Pecota)