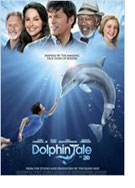 Mein Freund, der Delfin (Dolphin Tale)
U.S.A. 2011
Opening 15 Dec 2011
Directed by: Charles Martin Smith
Writing credits: Karen Janszen, Noam Dromi
Principal actors: Morgan Freeman, Ashley Judd, Nathan Gamble, Kris Kristofferson, Harry Connick Jr.
The world of Sawyer Nelson (Nathan Gamble) takes a downward spiral with the news that his beloved cousin, Kyle Connellan (Austin Stowell), will enter military service instead of pursuing his long-time dream to train for the U.S. Olympic swim team. Kyle has been a strong mentor to Sawyer since his dad walked out on him and his mother, Lorraine Nelson (Ashley Judd), leaving them to struggle both emotionally and financially. The questions left unanswered for the two is the most damaging. Sawyer is angry. His emotional state is fragile and he is worried for the life of his cousin. He would be devastated if his cousin never came back from the war zone to which he is assigned. Kyle is Sawyer's hero and wants to see him excel as an Olympian, but the optimistic Kyle says there will be time to pursue his dreams after the military. Kyle presents Sawyer with a heavy-duty Swiss Army knife as a going-away gift, something tangible to be remembered, as well as a helpful tool in Sawyer's workshop. Sawyer is creative and builds amazing gadgets.
Sawyer needs time to ponder his feelings of sadness and takes the long way to school which trails the Clearwater, Florida, coast line just off the Atlantic Ocean. Sawyer is on his bike and hears someone calling for help. Sawyer heads down to the beach in the direction of the male voice. Sawyer sees that a dolphin has washed up on shore and is awfully tangled in crab-pot wire. It's alive! Sawyer grabs his Swiss Army knife and begins franticly cutting wires to release the pressure that was strangling the dolphin to its death. The dolphin is at the mercy of Sawyer's hand and sees the work that Sawyer is doing to save its life, making a connection to him. Sawyer is able to free the dolphin but the tail is badly damaged from the injury. Sawyer's sadness is compounded with the fact that he could not do more to ease the dolphin's agony. The authorities from Clearwater Marine Hospital arrive on the scene to transport the dolphin to a safe haven.
The evening news makes the accident newsworthy. The Marine Hospital's Dr. Clay Haskett (Harry Connick, Jr.), states that the dolphin, which they have named Winter, will lose its tail. Sawyer yearns to help Winter one more time. After supper he heads to his workshop to do some research and wonders if a dolphin would take to a prosthetic tail. Sawyer connects with Dr. McCarthy (Morgan Freeman), a famous prosthetic limb designer for military veterans in order to ask for help to save Winter. Though apprehensive, the two embark on an inspirational journey of true valor; between a dolphin in need, a young boy's desire to have purpose and a group of friends willing to be on the cutting edge of mammal life survival, they embrace technology to save the life of a dolphin.
P.S. A Dolphin Tale is based on a true story, written and directed by filmmaker Charles Martin Smith with Alcon Entertainment. Smith notes, "The real Winter, who plays herself in A Dolphin Tale, today serves as a symbol of courage, perseverance and hope to millions of people—both able and disabled—who have been touched by her remarkable story of recovery and rehabilitation." (Karen Pecota)