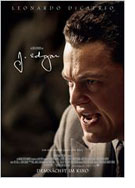 Opening 19 Jan 2012
Directed by: Clint Eastwood
Writing credits: Dustin Lance Black
Principal actors: Leonardo DiCaprio, Armie Hammer, Naomi Watts, Josh Hamilton, Geoff Pierson
Oscar® winner Clint Eastwood gathers a stellar cast and crew made up of Oscar® award winners and nominees for his latest film J. Edgar. Eastwood directs a narrative about John Edgar Hoover (Leonardo DiCaprio) written by Oscar® winner Dustin Lance Black (Milk). Eastwood doesn't stop at only receiving credits for directing the film but has his hand in composing the original musical score adding to his excellent filmmaking talents.
The dark side of the former United States Federal Bureau of Investigation (FBI) Director is the focus Black chooses for his reflection on the screenplay about J. Edgar Hoover. He brings to light information kept out of the public eye far too long. Hoover's political career spanned more than six decades from the early 1900s to his sudden death in 1972, at the age of 77. He served eight American Presidents by using clever political moves that made him irreplaceable for 48 years.
Black transforms a tantalizing storyline that dissects Hoover's character and the relationships that influenced his life and career. He portrays Hoover as a complex man bound by loyalty and secrets. Eastwood's well-executed film looking into Hoover's world disturbed me enough to do my own research on the man and his legacy. Black's account is merely an opinion based on both fact and myth and will never be resolved as the total truth, ironically for lack of evidence, so I cannot in good conscience agree with his findings 100%. However, I will concur that though Hoover's length of office term was unprecedented; his legacy warrants appropriate examination to help future generations in governmental service understand checks and balances.
The nostalgic John Edgar Hoover (DiCaprio) has been with the Federal Bureau of Investigation (FBI) close to forty-eight years and decides to document his personal history with the Bureau. He is around 76 years of age and though he has no intension to retire, Hoover feels compelled to journal about his career in an ever-changing society and share the love he has for his job. Hoover takes us on a journey through time when communism was a real threat, crime was at an all-time-high, prohibition was soon to make big changes on the American way of life and scientific research to develop the finger print would put a criminal at the scene of a crime.
Hoover uses personal transcribers from the FBI team to dictate his historical memoirs. He shares one account after another from the past to present in chronological order that often appears as if he is giving the transcriber a history lesson. Hoover begins with his years as an impressionable teenager as he witnessed horrific assaults on the United States political figures that fought hard against organized crime. This side of the American life in the 1900s was crude and brutal but attractive. Hoover deeply desired to fight to protect his country. Hoover was given the opportunity to work under the Bureau of Investigation Director and he gladly accepted the challenge. He was attracted to a life of fighting crime and pursued every opportunity to move his career forward. He was brought up by a mother, Annie Hoover (Judi Dench), who was very religious and a true patriot, becoming the most influential person in his life to guide his career. The key to his success was multi-faceted but mostly due to the loyalty and undying devotion of his personal secretary, Helen Gandy (Naomi Watts), and his companion Clyde Tolson (Armie Hammer).
Hoover's first break came when he was instrumental in being the first to produce the forensic evidence from the scene of a crime with lifting fingerprints. Hoover used his research to keep a high profile case warm. The son of the legendary aviator Charles Lindbergh (Josh Lucas) was kidnapped. The case never went cold in the search for the child, the perpetrator and the case's resolve as a direct result of Hoover's research on fingerprint forensics, and this changed the public profile of the FBI forever. The use of this form of evidence to bring criminals to justice gave Hoover acclaim beyond his comprehension and propelled a dark side of acquiring evidence that, though helpful to this day with national security, has its scruples. (Karen Pecota)