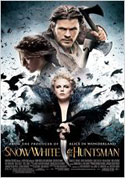 Snow White and the Huntsman
U.S.A. 2012
Opening 31 May 2012
Directed by: Rupert Sanders
Writing credits: Evan Daugherty, John Lee Hancock, Hossein Amini
Principal actors: Kristen Stewart, Chris Hemsworth, Charlize Theron, Sam Claflin, Sam Spruell
The fantasy-adventure Snow White and the Huntsman is a modern version of the well-known fairytale about a vain queen who is jealous of her stepdaughter's beauty. Having learned early that beauty means power, the Evil Queen (Charlize Theron) will sacrifice everything, or rather everyone, for eternal beauty. Eventually even her stepdaughter, Snow White (Kristen Stewart), almost pays a deadly price for the queen's obsession with beauty and power. Luckily Snow White has other plans, escapes from the castle and tries to find allies to fight the Evil Queen. Unfortunately she has to cross the Dark Forest first, and this place isn't just dark, but also filled with dangerous things. Enter the Huntsman (Chris Hemsworth), who follows Snow White into the Dark Forest to capture the young princess and ends up helping her. Many minutes and a few cute turtles later, Snow White rides into battle with just minimal training and succeeds in taking her castle back!
Advertised as an "epic action-adventure", director Rupert Sanders' first feature film has its strongest moments when it looks, sounds and feels like The Lord of the Rings. The rest is entertaining, but there are no really great action or fighting scenes in this "action-adventure". Those in the audience hoping for some romance will also be disappointed. There is no chemistry between Snow White and her two potential love interests, the Huntsman and her childhood friend William (Sam Claflin). The director simply doesn't make the most of a cast with many stars. Chris Hemsworth and Sam Claflin aren't the only ones who, given the chance, could have made a stronger impression.
The presentation of the two main characters is also a problem: The information about the queen's past experience just distracts attention from Charlize Theron's intense portrayal of that character. She makes it clear Ravenna wasn't born a psychopath – no need to spell it out. Snow White, on the other hand, is first a traumatized little girl (Raffey Cassidy) and later a brave young heroine, convincingly played by Kristen Stewart. But how did the little girl locked up in the tower grow into the young woman who manages to escape the way Snow White does? And how does the older Snow White acquire her fighting skills?
The movie as a whole failed to make me want to believe in the world and the characters it presents. (What happened to the movie described in the press-package?) (Christa Greiff)