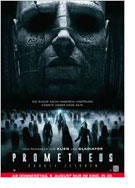 Prometheus - Dunkle Zeichen (Prometheus)
U.S.A. 2012
Opening 9 Aug 2012
Directed by: Ridley Scott
Writing credits: Jon Spaihts, Damon Lindelof
Principal actors: Noomi Rapace, Logan Marshall-Green, Michael Fassbender, Charlize Theron, Idris Elba
Since Alien, the 1979 classic where an alien life-form found in a derelict spaceship on a distant planet terrorizes the crew and rips into audiences' consciousness with its psychological primeval horror of unimaginable proportions, director Ridley Scott has speculated about one point no one ever questioned: the humanoid spaceship pilot. "Who was he? Why did he land there"? Three years ago, after a 30-year hiatus from science fiction following Blade Runner, Scott had the idea that spawned Prometheus: the ship's name is the central metaphor for the film, "…the Greek Titan Prometheus, who defies the gods by giving humans the gift of fire, for which he is horribly punished," explains Scott.
Beginning in 2089 on the remote Isle of Skye, Jon Spaihts and Damon Lindelof's screenplay is mostly compelling. Dr Elizabeth Shaw's (Noomi Rapace) flashlight highlights a 35,000-year-old cave painting of startling significance: the peculiar star cluster a gigantic figure points to has been found in numerous ancient civilization cave pictograms around the world. She tells Dr. Charlie Holloway (Logan Marshall-Green) and fellow archeologists, "I think they want us to come and find them". In 2093 aboard the scientific explorer Prometheus, the android David (Michael Fassbender) cares for his cargo and the ship unerringly; following a "destination threshold" announcement, Meredith Vickers (Charlize Theron) emerges, and David assures none died during their two-year journey from earth.
Disparities emerge as the crew rejuvenate and then suit-up to canvass the foreign terrain: some think they will find revelations concerning humanity's "makers", while others are there only for the money. Representing the mega-conglomerate Weyland Industries' trillion-dollar investment, Vickers coldly reminds Shaw and Holloway, partners professionally and privately and in charge of the explorers and scientists, that Weyland's funding makes her the expedition leader. Vickers believes only in the bottom line. The one person who challenges her is the salty Janek (Idris Elba) – as captain, his old-fashioned code dictates keeping the ship and crew safe. Which is good, because their quest for truth has dreadful consequences that despite Janek's resolute actions are uncontainable. "Feasibility always creates the finest and most dangerous drama and the opportunity for me to scare the hell out of everyone", says Scott about his trademark – protagonists finding themselves in (situations) over their heads.
We embark on a flight to the farthest realms of a barely conceivable galaxy by means of Dariusz Wolski's cinematography and Marc Streitenfeld's original music, and editor Pietro Scalia needs 124-minutes to convey the story. Arthur Max (production designer) and Janty Yates (costume design), with painstaking attention to detail, substantially energize Scott's vision, and the cast excels under his impeccable direction. Theron's Vickers seems mechanical and manipulative until circumstances force acknowledging her humanism; Rapace embodies Shaw's determination, smarts, sensitivity, and unflinching belief; Fassbender's wit and charisma imbue David with human-like qualities, synthetic yet chillingly real; hints of nastiness escape from Marshall-Green's affable Holloway, and Elba's Janek gives us down-to-earth reassurance. Although I am not a proponent of 3D, in this film it works magic especially when David stands within the 'galaxy'. Laced with intrigue, primordial thrills, and angst, Scott's new mythology Prometheus entertains and presents two angles for a sure-to-follow sequel. (Marinell Haegelin)