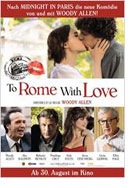 Opening 30 Aug 2012
Directed by: Woody Allen
Writing credits: Woody Allen
Principal actors: Judy Davis, Flavio Parenti, Roberto Benigni, Alison Pill, Alessandro Tiberi
Woody Allen's love letter to Rome includes four of the multitude of love stories observed by the master of traffic (and ceremonies) flamboyantly keeping order at the base of the Spanish Steps, a major meeting place in the center of the city. All roads lead to Rome, so said Alain de Lille in Liber Parabolarum (1175). And different paths can take one to the same goal.
Screenwriter and director of the film, Mr. Allen stars in one story as Jerry, the recently retired impresario travels with his psychologist wife (Judy Davis) to meet their daughter's (Alison Pill) fiancé, idealistic lawyer Michelangelo (Flavio Perenti). Jerry is more impressed by the voice of the young man's mortician father (opera tenor Fabio Armiliato) when he overhears him singing in the shower. The love evolves to a final shower scene that rivals Hitchcock's Psycho, not for its terror but with absurd humor!
In another story famous architect John (Alec Baldwin) revisits Rome where he lived 30 years earlier. He befriends a young architect Jack (Jesse Eisenberg) living there with his girlfriend Sally (Greta Gerwig). Sally's friend Monica (Ellen Page) comes for a visit and with uncanny detail, John warns Jack repeatedly against romantic carelessness. Is John remembering his past, or is he in a state of imaginative freedom – as other characters in Allen's fiction and films? For example, in New York Stories "Oedipus Wrecks" (1989), his mother volunteers for a magician then disappears during the trick onstage. Her ballooning head reappears bobbing in the Manhattan sky, telling Allen's embarrassing personal foibles to anyone who will listen.
The other stories deal with adoration of celebrity. Newlyweds Antonio and Milly (Alessandro Tiberian and Alessandra Mastronardi) become separated. Milly meets her favorite movie star (Antonio Albanese) while Antonio mistakenly receives a gift of a prostitute (Penelope Cruz). And in the last episode, family man Leopoldo (Roberto Benigni) becomes a victim of overnight fame, then suddenly returns to obscurity.
Much of the soundtrack is Italian Schlager, including Ciribiribin, the Harry James's Orchestra theme song. Mr. Allen's film music is usually based on jazz from 1930–70's and includes Jack Teagarten's version of When Your Lover has Gone. And the real treat is Fabio Armiliato's selections from Pagliacci and Fedora. (Nancy Tilitz)


Second Opinion

Woody Allen's newest film shows love's many forms yet lacks the one component integral to all things amore, and Italian, passion. To Rome with Love centers on five couples' parallel scenarios, played out against magical, romantic Rome. The following is a (overly) simplified version of the plot. One young couple's (Alison Pill, Flavio Parenti) chance encounter ignites love, and plans to marry that bring their parents (Judy Davis, Woody Allen and famous tenor Fabio Armiliato) together. The ordinariness of a middle-aged Italian couple's life (Monica Nappo, Roberto Benigni) turns topsy-turvy when he abruptly, unaccountably becomes famous. Newlyweds (Alessandra Mastronardi, Alessandro Tiberi) arrive anticipating a new job and new life in Rome, but a prostitute (Penélope Cruz) and a gigolo film star (Antonio Albanese) foil their intentions. And finally, for the vacationing, successful American architect (Alec Baldwin) Rome evokes his student year here, with an unforgettable woman (Greta Gerwig); he wanders into the neighborhood they had called home and relives past escapades (Ellen Page, Jesse Eisenberg), albeit with his current insight and knowledge. There are a great many more twists and characters, but these are the main players.
The story is overly ambitious, forgivable in a fledgling writer / director but not one so seasoned as Allen. Poking fun at so many generalizations – expectations inherent in relationships, fame, getting older, young adults, promiscuity, death, fantasy vs. realities – adds to the narrative's complexity, rendering it sketchy and confusing, with dialogue that is often woodenly delivered. The continuity breaks are minor compared to the time-sequence disparities: Milly the newlywed leaves their hotel to find a hairdresser before meeting her husband's relatives later that day (this subplot is superfluous anyway), yet meanwhile we watch the New York parents enduring turbulence prior to the plane's landing, breakfasting at their hotel, and meeting the parents of their daughter's betrothed for an early dinner. Obviously having shot a lot, Allen tossed in everything to be safe. A meandering, indecisive storyline is a recurrent problem in Allen's movies, and unfortunately, Rome's part was too minor in this too long film. (Marinell Haegelin)