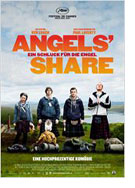 Angels Share - Ein Schluck für die Engel (The Angels' Share)
U.K./France/Belgium/Italy 2012
Opening 18 Oct 2012
Directed by: Ken Loach
Writing credits: Paul Laverty
Principal actors: Paul Brannigan, John Henshaw, Gary Maitland, Jasmin Riggins, William Ruane
Film director Ken Loach is notorious for stirring up the emotions of his audiences and his latest film, which won the grand jury prize at Cannes this year, is no exception.
The film opens with a foul-mouthed, drunken young man tottering on the platform of a railway station somewhere in Scotland, and you groan inwardly at the prospect of another movie about hapless, helpless victims from the dregs of society. This drunken young man is Albert (Gary Maitland), and he is soon in court along with other petty and not so petty criminals. These include Mo (Jasmine Riggins), Rhino (William Ruane) and Robbie (Paul Brannigan). When all are sentenced to do community service as an alternative to prison, no one is more relieved than Robbie. When he leaves court with his pregnant girlfriend Leonie (Siobhan Reilly) he is threatened by Clancy (Scott Kyle) and Sniper (Neil Leiper) who want revenge for the permanent injuries Robbie has inflicted on them in a fight, and his relief immediately turns to despair.
The young offenders are placed in the care of social worker Hanny (John Henshaw), a kindly father-figure with a love of whisky. Harry befriends the young people he supervises and takes Robbie to visit Leonie in hospital when she gives birth to their son. In a hospital corridor Harry sees Robbie beaten up by Leonie's uncles, who want the young father to stay away from their niece. Harry takes Robbie back to his home and introduces him to Scotland's favourite tipple. Soon he is teaching Robbie to appreciate whisky's many qualities. Unusually for a Scotsman, Robbie has never drunk whisky before, but it seems that he has a natural discernment for the many tastes, textures, and aromas which different brands offer.
Somewhat surprisingly for a probation officer (though it is Scotland after all), Harry takes the motley crew to a whiskey distillery on his day off. The visit ends in the tasting room, where Mo reverts to type and steals some sample bottles. When the group is back in Glasgow, without Harry, of course, they have a tasting session of their own and Robbie's flair becomes obvious to the others. Harry invites Robbie to a whisky-tasting event in Edinburgh, and the others invite themselves along, too. The title of the movie is explained here because the angels' share is the first taste of whisky when a barrel is opened to check for flavour. The group learns that an auction is soon to take place at a distillery in the Highlands where a barrel of whisky so ancient and rare is expected to attract customers from around the world and to sell for over a million pounds.
Robbie loves Leonie and wants to give her and their baby a better future. He may be a violent ex-prisoner but he's also clever, much cleverer than his companions, and he devises a scheme to help them all. The group dress up in kilts, drive through Scotland's stunning scenery and set up camp above the distillery's ancient buildings. What happens next has you on the edge of your seat.
The characters in Mr. Loach's movies are always complex and are usually hapless and helpless. In The Angels' Share he shows us that Robbie is both a violent thug and a loving father who wants his son to have a better chance in life than the one he has to face. Usually his characters sink under the strain of misfortune, but this movie differs from most of his others because it has a more hopeful ending for its main character. The movie is difficult to follow because the Glaswegian accents are almost incomprehensible, and you may find yourself relying on the subtitles (it's amusing to note the different ways that the many swear words are translated). And an episode in the scene where the group is tasting the stolen whiskey is unforgettably nauseating. That said, the view of the Highlands, the glimpses of Harry's kindness and positive effect it has on the group and the chance of a better life for Robbie make this movie a triumph for Ken Loach, who well deserves his prize at Cannes. (Jenny Mather)