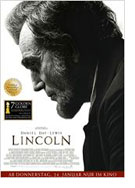 Opening 24 Jan 2013
Directed by: Steven Spielberg
Writing credits: Tony Kushner, Doris Kearns Goodwin
Principal actors: Daniel Day-Lewis, Sally Field, David Strathairn, Joseph Gordon-Levitt, James Spader
Steven Spielberg has forever been fascinated with the leadership style of the former United States President, Abraham Lincoln. He has read numerous accounts of Lincolnís life and this Presidentís devotion to mankind. In his research, Spielberg knew that if he were to ever capture a compelling narrative on film about the former U.S. President, a portion would be dedicated to Lincolnís human side. Lincolnís own reality check complimented his activities of the prestige political office which he held dear. Lincoln was a storyteller making strong analogies to make a point. Points well received, worthy to contemplate and to be never forgotten.
Storytelling about Abraham Lincolnís (Daniel Day-Lewis) home front with his wife, Mary Todd Lincoln (Sally Field) was not to be diminished. Though tempting to exploit their private life, Spielberg chose to emulate Lincolnís human side in the midst of political turmoil portrayed in Lincoln. Day-Lewis captivates the very essence of Lincolnís integrity and character. His stature. His voice. His humor. His stories. His intellect. His influence. His love for dear Mary. His walk. Spielbergís Lincoln simply takes your breath away. Though he takes a leap of faith to produce a film heavily driven by intense dialogue; Spielbergís visual magic is evident in his beautifully detailed movie sets of the 1860s. ďA capsule in time,Ē says actress Sally Field. A new venture for the film directing icon that is now epic.
Spielberg based most of his narrative on Doris Kearns Goodwinís biography of President Abraham Lincoln called Team of Rivals: The Political Genius of Abraham Lincoln. Goodwin suggests that there are three components that helped him win the presidential election in 1860. In the years to follow, Goodwin feels that these three elements were the branding of his political success: 1) His talent for getting along with his opponents; 2) His being a political genius; and, 3) His steady compass that always pointed to the universal truths of justice and civil rights in order to secure a more perfect union.
Spielberg and screenwriter Tony Kushner zero-in on the last four months of Lincolnís life. In 1865, the months from January to April were some of Lincolnís most burdensome yet infamous of his entire political career. His dilemmas were complicated and faced a narrow timeframe for decisions to be made that would later alter American history. Lincoln recounts the intense efforts the President made to pass the Thirteenth Amendment to the United States Constitution that would abolish slavery in the entire country.
Here is what was at stake: Lincoln was concerned that if the Thirteenth Amendment did not pass in the United States House of Representatives before the end of the civil war (projected to happen in a month or two) then at the warís end it would surely be defeated by the returning slave states. He was convinced that the Thirteenth Amendment to abolish slavery in the country had to be passed in the month of January in 1865, to prevent the possibility for those slaves who have been freed to be re-enslaved. The Border States Republicans were not totally on board with the amendment for obvious reasons and wanted to end the war first. The Radical Republicans where thinking that the amendment might be defeated from a House divided. Many fellow Republicans felt it best to wait until their first meeting with the newly elected heavily seated Republican Congress. The majority would be in their favor. Lincoln felt that would be too late.
The problem with the January decision was that in order to pass the amendment, the House needed votes from seven Democratic Congressmen. It was Lincolnís idea to go after the various lame duck members who had recently lost their re-election campaigns in the fall of 1864. Lincoln felt that they would be more likely to vote as they pleased. There were many Democrats sitting in the lame duck position so there was hope that they could find at least seven to come over to the Radical Republican side in a vote to abolish slavery.
Lincoln was strong willed and persistent to see to it that the Thirteenth Amendment passed before the warís end and in his timeframe. He kept pushing his leadership team to do all they could to get those seven votes. Lincoln relied on the deep devotion of some very influential men known as Lincolnís team: Lincolnís Secretary of State Ė William H. Seward (David Strathairn), Sewardís lobbyists (John Hawkes, James Spader and Tim Blake Nelson) and Republican Party Founder and a powerful Southern Politician, Francis Preston Blair (Hal Holbrook). Itís this part of the U.S. President ís political journey that Spielberg opens up the heart, mind and soul of his Lincoln to share how monumental the task was to end slavery forever, as well as a war that had divided the United States territories of the north and south.
Sally Field (Mary Todd Lincoln) talks about the relevance of the film for today to which she often thought about while filming. "It (the film Lincoln) feels incredibly current," Field says, "I think the story resonates not just in the U.S., where people have become so entrenched in individual political beliefs, but also in the world at large." Field continues, "The complicated nature of democracy Ė the difficulty and messiness of it, how hard it is to keep working Ė really comes to the fore." Field adds, "It reminds all of us that this noble notion of people governing themselves is something you have to want more than life itself."
Author Harold Holzer wrote the young adult companion book to the movie under the same name LINCOLN. Spielberg brought Holzer in as a content consultant for his knowledge and historical research. His commentary on Spielbergís film recorded in the online version of The Daily Beast as to what might be fact or fiction in the film is worth the read. It lends a different perspective on some facts that one might think fiction, especially with House Representative from Pennsylvania, Thaddeus Stevens. (Karen Pecota)