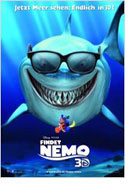 Opening 14 Feb 2013
Directed by: Andrew Stanton
Writing credits: Andrew Stanton, Bob Peterson, David Reynolds
Principal actors: Albert Brooks, Ellen DeGeneres, Alexander Gould, Willem Defoe, Brad Garrett
Dude, it's been nine years and Disney Pixar continues to "ride the wave" in celebration of their highly acclaimed 2003 animation feature film Finding Nemo. Summer 2012 puts the film on the big screen in 3D animation, Finding Nemo 3D. At the time of the Disney Pixar Academy Award® win in 2003 for Best Animated Feature Film it was the highest grossing G-rated movie of all time. In the same year, it received a Golden Globe Award winning in the category for Best Motion Picture – musical or comedy. A few years later, in 2008, the American Film Institute named Finding Nemo among the top ten greatest animated films ever made. As if these awards were not enough of a statement for the beloved film studio; they added one more eye dropping enhancement to the original beautifully animated art – Nemo and friends in 3D. Wow! It's hard to believe that Finding Nemo 3D could enhance the storyline and its unforgettable cast of sea life, but it does!
Nemo (voice of Alexander Gould), a little clownfish, is born into a family with 400 siblings produced by a loving clownfish mother Coral (voice of Elizabeth Perkins) and father Marlin (voice of Albert Brooks). It is during the spawning period of the young clownfish couple, the fragrance of the soon-to-be newborn clownfish attracts a barracuda, which captures the large brood along with Coral. Nemo and his father, Marlin, narrowly escape the attack and mourn at the loss of their family but feel fortunate to have been left behind. The traumatic experience for Nemo's father makes him constantly worry about his son's safety. One fact forces him to be an over-protective parent. Nemo has a birth defect of one arm fin being smaller than the other. The smaller fin forces Nemo to work much harder to accomplish normal clownfish-like tasks. His father rarely makes an issue of the handicap and tells him, "Nemo, your weakest asset can turn out to be your strongest." His father sincerely believes in his encouraging words but is fearful Nemo will not being able to survive in the Ocean's deep without proper survival training.
Nemo accepts his over-protective father until he begins school. It is here that Nemo resents the typical parental actions of love Marlin shares. In fact, Nemo is embarrassed because the other mates make fun of him. Nemo is now the perfect candidate to be teased by his fellow school mates. In order to prove that he does not need parental guidance, Nemo deliberately disobeys his father. Nemo announces to Marlin that he hates him, skips the next day of school and ventures into the Ocean. Sound familiar to any of you parents? Marlin is devastated at his son's behaviour, but, because of a father's love for his wayward child, he ventures out into the Ocean's deep to find his lost son to bring him home.
The sea journey of a lifetime for both father and son happens in Finding Nemo 3D. The beautiful visuals will help you to be a part of the adventure and lessons learned from the clownfish family duo: the importance of being obedient, truthful and trustworthy. You will enjoy their variety of new-found friends such as the beloved Crush (voice of Andrew Stanton), the sharks' anonymous club, the aquarium gang and Nigel, the pelican (voice of Geoffrey Rush). You will need to hold on to your seat when you venture with them through dangerous situations but enjoy the ride with the deadly jelly fish tides, and ride the East Australian Current. So Dude, grab your special 3D specks and watch your sea world be totally transformed. Totally, Dude! (Karen Pecota)