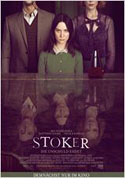 Stoker - Die Unschuld endet (Stoker)
U.S.A. 2013
Opening 9 May 2013
Directed by: Chan-wook Park
Writing credits: Wentworth Miller, Erin Cressida Wilson
Principal actors: Mia Wasikowska, Nicole Kidman, Matthew Goode, Jacki Weaver, Dermot Mulroney
Wealthy architect Richard Stoker (Dermot Mulroney) taught his young daughter to hunt wild birds, which were then stuffed and displayed in trophy cases. He also made sure that she became a crack shot. When he died in a seemingly freak accident, Richard's funeral is held, somewhat insensitively, on his daughter's eighteenth birthday. An enigmatic stranger claiming to be Richard's brother appears at the funeral and moves into the family mansion.
Richard's gorgeous wife Evie (Nicole Kidman) and sulky daughter India (Mia Wasikowska) are charmed by Uncle Charlie's friendly manner, though we, the audience, can see immediately that he is trouble with a capitol T. The women's attraction to Charlie quickly develops into a sexual one with mother and daughter vying for his attention. Director Park, as he is known, illustrates this unhealthy interest by using a number of very obvious metaphors, such as watching a spider climb up India's tights and disappear beneath the hem of her skirt and having her play an imaginary piano duet with her uncle which is charged with erotic fantasies.
Auntie Gin (Jacki Weaver) appears, immediately smells a rat and passes a note to India asking her to phone her at her hotel, when all will be explained. Well, we all know what is going to happen to her, don't we? Yes, the same thing that happened to Mrs McGarrick (Phyllis Somerville), the housekeeper. When India won't acknowledge these events we know that she is doomed.
A meticulous sense of detail and atmosphere are displayed in this movie, but it doesn't hold the viewer's interest. Because the actors speak in hushed monotones you almost wish for subtitles. (Please, filmmakers, acknowledge that filmgoers not only have had their hearing smashed about at rock concerts but also that the aging process causes a diminished sense of hearing, so turn the sound up.) The cinematography is clever but it often jars; on two occasions it seemed as if the film had broken down. The pace of the movie is also much too slow. Oh how different Stoker could have been in the hands of a master of suspense such as Alfred Hitchcock.
The end of the movie is shocking but it is also silly. Despite the wonderful acting of the main characters and the visual beauty of the film, it leaves you feeling that you've wasted your time as well as your money by bothering to go and see it. The plot lets it down, and the plot is surely the most important ingredient of any film. (Jenny Mather)


Second Opinion

The setting for this psycho-thriller is the expansive isolated estate of an old-money American family. Foreboding and very 'goth', their name is Stoker. India (Mia Wasikowska), the only child, is a hostile and self-absorbed loner, neither interested in her peers nor in bonding with her unstable mother (Nicole Kidman). Today on her 18th birthday her beloved father dies in a car accident and an uncle Charlie (Matthew Goode) – introduced to her as her father's younger brother – creepily forces himself into their lives, assuming the role of the deceased. Soon this dapper charmer has mother and daughter under his erotic spell. To the fitting score by Clint Mansell and with deliberate references to Hitchcock, disturbing things start to happen, people vanish. Though the script is somewhat unsatisfactory, under the direction of Park Chan-Wook the wonderful cast finds a balance of staying mysterious, 'pokerfaced' playing with our assumptions and keeping us interested. (Carola A)