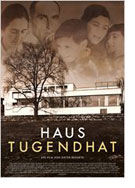 Opening 30 May 2013
Directed by: Dieter Reifarth
Writing credits: Dieter Reifarth

The Tugendenhat House in Brno, controversial when first built, has long been an icon and masterwork of modernist architecture. Mies van der Rohe designed this villa 1928-1930 for the elite and sophisticated couple Fritz and Grete Tugendhat. Built on a slope with beautiful views of the old town of Brno and the garden, the upper level of the house towards the street is reserved and private. The level below contains the main living area that is the most spectacular and amazing part of the house. The choice of a steel frame construction enabled Mies to design a flowing grand space of enormous dimensions, interrupted rhythmically only by chrome-clad steel columns and two partitions of noble materials. This space is separated from the outside world only by floor-to-ceiling glass walls. Mies specified all aspects of interior design in collaboration with Lilly Reich as well as of the technical installations to create a timeless "Gesamtkunstwerk" (complete work of art).
The introduction of Dieter Reifarth's Haus Tugendhat shows views of the house from the present and from the wonderful Rudolf de Sandalo photographs that Mies commissioned in 1930. Excerpts of the passionate debate on the house that appeared 1931 in the magazine Die Form are spoken. Some opinions are overly positive and others very negative. Grete and Fritz responded, expressing deep love and appreciation for their home, which they described as "pure", "beautiful" and "liberating". But the Tugendhats, a Jewish-German family, were only able to live in their house eight years before fleeing the Nazis in 1938.
Reifarth relates the history of the Tugendhat House and family from the perspectives of the Tugendhat children. The Tugendhat House is also presented in the social, political and cultural context of the modern Republic of Czechoslovakia formed after World War I; the German occupation; the communist regime; and the Czech Republic, whose formation was made public in a broadcast from the Tugendhat House. The descendants of Fritz and Grete never repossessed the house but always fought to have it restored and open to the public. In 2001 the Tugendhat House was designated a UNESCO World Heritage. From 2010 until the opening in 2012 a laborious technical and aesthetic restoration was realized.
The talking appearances of family, historians, and former residents of Tugendhat during its varied uses are numerous and sometimes long and distracting. "Less is more" (Mies's signature phase) could have brought direction to this film about a truly remarkable monument. Haus Tugenhat is not for someone only interested in architecture but rather for one interested in the faceted history of Haus Tugendhat and the family. (Carol Strametz)