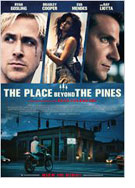 The Place Beyond the Pines
U.S.A. 2012
Opening 13 Jun 2013
Directed by: Derek Cianfrance
Writing credits: Derek Cianfrance, Ben Coccio, Darius Marder
Principal actors: Ryan Gosling, Eva Mendes, Anthony Pizza, Bradley Cooper, Craig Van Hook
This drama explores the life of two fathers and its impact on the life of their sons. Luke (Ryan Gosling) is a skilled motorcycle stunt rider who works for a travelling carnival. Once he discovers that he fathered a son with his one-night stand Romina (Eva Mendes), he quits his job wanting to be a father to his son (Anthony Pizza). Desperate to make money to take care of his family, he decides to start robbing banks. His luck ends when he is ambushed and shot by the young policeman Avery Cross (Bradley Cooper) in a house he has fled to after a robbery. But being the town's hero is not enough for the ambitious policeman. He wants to end the corruption within the police department and quickly rises through the ranks until he becomes district attorney. Fifteen years later, Avery split up with his wife Jennifer (Rose Byrne) and his estranged son AJ (Emory Cohen) wants to come live with him. AJ, an angry young man with a drug problem, quickly makes friends with Jason (Dane DeHaan), Luke's son, neither one of them being aware of their link to each other. Both carry the suppressed emotional fallout of what happened upon their shoulders, so when they find out about each other, these emotions become a ticking time bomb.
What I liked about this movie was the concept that children are heirs to the sins of their fathers. It is shown that even heroic deeds can have consequences for the good guy and that good intentions cannot make up for past sins. Refreshingly, Avery and Luke were not shown to be all "good" or "bad." Luke was a truly kind father who really wanted to connect with his son. Avery, on the other hand, could not connect with his son at all and didn't become district attorney by merit alone. However, Bradley Cooper and Ryan Gosling did not convince me completely in their roles. Also, I would have liked to know more about the effects of Avery's and Luke's connection in the lives of other people close to them. All in all, this is a movie with a good story that did not keep me much intrigued after I left the movie theater making it a ***1/2 movie. (Katia Trost)


Second Opinion

A motorcycle stunt rider's previous flame shows up after a show; handsome Luke (Gosling) remembers her, "Romina (Mendes), but I called you Ro," Next day he learns he has a son; confronting Ro, she acknowledges the baby is his but now she's studying, a waitress, and has a good man. Quitting the carnival, loner Luke settles into Schenectady, New York, determined to win over his family. Meeting a fellow biker, Robin offers him a job as a mechanic, a trailer to live in, and, hearing about Luke's monetary plight, a get-rich-quick plan based on Robin's success with robbing banks. Ultimately, everything goes askew because of Luke's temper – enter policeman Avery Cross (Cooper). Any plot enigma peters out at this point; the pacing markedly alters and the story becomes transparent.
Avery's heroic actions result in a moral quandary; led by veteran Deluca, a group of cops show up at his door. Clever and ambitious, Avery aims higher and goes to District Attorney Killcullen with evidence against his corrupt colleagues. Fast-forward fifteen years: the teenage sons of Luke and Avery meet at high school. Kindred souls, Jason (DeHaan) and AJ (Cohen) bond immediately, with alarming results. Avery, campaigning for Attorney General, gives his son AJ a warning; in contrast, dismal consequences open Jason's eyes, determining his course of action. There is some additional mayhem, until we arrive at a predictably pat ending.
An alternative finale might have added interest, and that is the point – nothing new in this too long screenplay. Whereas in the "Luke" segment, Mike Patton's original music enhances and leads the on-screen action, by the time we get to "teenage sons," it's become ubiquitous, and just like the story, Sean Bobbitt's unfaltering cinematography was better earlier. (Marinell Haegelin)