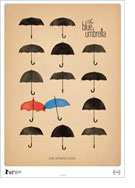 Opening 20 Jun 2013
Directed by: Saschka Unseid
Writing credits:

Disney-Pixar is showcasing a short film animation as the opener to their latest feature animation film Monsters University.
In rush-hour foot traffic the owner of a bright blue umbrella, traipses thru the pouring down rain, weary and tired from a hard days work. Among the bustling sea of gray umbrellas venturing home, the owner of a bright red umbrella stands at the stoplight. When the blue umbrella appears, they are immediately attracted to each other's color, and exchange endearing eye contact. It was love at first sight between the blue and red umbrellas. Before the light allows the sea of umbrellas to move forward, a mighty gust of wind kidnaps the blue umbrella and blows him far, far away from the red beauty. The city comes alive at the tragedy. A search and rescue is administered for the blue umbrella but it is uncertain if the red umbrella will join them. She is out-of-sight. The lost will be found if there is a will and a way to find true love. A short narrative not to be missed.
Becky Tan adds: Director Saschka Unseid was born in Frankfurt am Main and moved to Hamburg as a teenager where he grew up and graduated with an Abitur from the Kaiser-Friedrich-Ufer Gymnasium in Hamburg-Eimsbüttel. He studied film at the Filmakademie in Ludwigsburg. The Blue Umbrella premiered at the 2013 Berlinale and was featured in a recent Pixar exhibit in Hamburg's Museum für Kunst und Gewerbe, Jan-May 2013, where Unseid also discussed his work. In a recent interview with Hanns-Georg Rodek in Die Welt, Unseid said, "Maybe you have to originate from Hamburg and then live in permanently sunny Califorinia to really appreciate rain." (Karen Pecota)