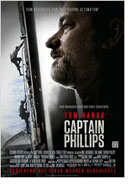 Opening 14 Nov 2013
Directed by: Paul Greengrass
Writing credits: Billy Ray, Richard Phillips, Stephan Talty
Principal actors: Tom Hanks, Barkhad Abdi, Barkhad Abdirahman, Faysal Ahmed, Mahat M. Ali
Captain Phillips follows events as they unfold when the unarmed U.S. Maersk Alabama container ship is hijacked 145 miles off the Somali coast by four fishermen-cum-pirates on March 28, 2009. Carrying only commercial goods, water, and food-aid for African countries, hostages are prized booty. The director's commitment to verisimilitude guarantees a thrilling, intense portrait of men caught-up in conditions whereby any solution will be determined by powers outside their control.
Early on director Paul Greengrass (The Bourne Ultimatum / Supremacy films), a former documentarian (Bloody Sunday), chose to bare below-the-surface economic circumstances lurking at the heart of Somali piracy. Devastated by civil war following the 1991 military dictatorship collapse and illegal fishing in coastal waters after the EU tightened laws instigating industrial fleets moving elsewhere, Somalis' retaliated via piracy. Warlords' involvement launched international organized crime; many pirates were thugs. Greengrass and a honed down crew shot 75 per cent of the film on board the Maresk Alexander – identical to the Alabama; the U.S. Navy vessels – out of Norfolk, Virginia – are active, mission-ready ships. Authentic crewmembers operate all vessels. Cinematographer Barry Ackroyd met the myriad challenges head-on. Safety issues were prime concerns: the pirates boarding the container ship, the night rescue replete with helicopters and parachuting Navy SEALS, et al required tremendous preparation as they were shot in real-time.
Two-time Academy Award®-winner virtuoso Tom Hanks (Phillips) leads the stellar cast. In the last scene Hank's performance is mesmerizing; we experience Phillips' shock. Regrettably, Henry Jackman's heavy-handed pesky music interferes right through. The Somali actors, friends from the large immigrant community in Minneapolis, Minnesota, auditioned together impressing everyone, and were cast. Barkhad Abdi (Muse, Phillips counterpart) learned to swim; he, Faysal Ahmed (Najee), Barkhad Abdirahman (Bilal), and Mahat M. Ali (Elmi) tirelessly trained under stunt coordinator Rob Inch's rigorous regime. Former SEALS – other than the Commander (Max Martini) – play themselves. And audiences are forefront throughout. (Marinell Haegelin)


Second Opinion

This is a dramatization of the real life hijacking of the US cargo ship, MV Alabama, by Somali pirates 145 nautical miles off the coast of Somalia. The Alabama was the first US cargo ship to be hijacked in 200 years and given the US's view on terrorism high drama on the high seas quickly unfolded with American warships, helicopters and US Navy SEALS coming to the rescue. Captain Rich Phillips (Tom Hanks) is the Captain of the cargo ship who, in 2009, tried to navigate the pirate ridden waters off the coast of Somalia. Muse (Barkhad Abdi) is the Somali fisherman turned pirate who leads his gang of pirates in this action packed hijacking and hostage drama. These two men are as different as the boats they Captain, Muse from a war-torn nation and Captain Phillips an 'ordinary' American who must behave in an extraordinary way to stay alive.
The clash between the enormous cargo ship and the Somali fishing boat seems ill-conceived and doomed to failure from the onset. The story plays out as Captain Phillips must defend his ship, his crew and finally save himself from these four teenage pirates that are hopped up on Khat and wielding automatic weapons. After taking Captain Phillips hostage for several days on a lifeboat Muse barely manages to constrain his gang as their amphetamine-like Khat runs out and the inevitable conclusion is reached.
This film has something for everyone high intensity, human interest, and superb acting. Tom Hanks' portrayal of Captain Phillips is an outstanding performance from a true character actor. Go to ensure you see a movie that will most likely have Tom Hanks nominated for an Oscar. (Christine Riney)