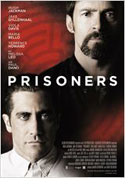 Opening 10 Oct 2013
Directed by: Denis Villeneuve
Writing credits: Aaron Guzikowski
Principal actors: Hugh Jackman, Jake Gyllenhaal, Viola Davis, Maria Bello, Terrence Howard
Odd things happen to children. Kidnapping is the very worst scenario a parent can imagine. Prisoners, a Warner Bros. Pictures release from Alcon Entertainment, is thriller storytelling at its finest – riveting and eerie. Canadian film director Denis Villeneuve takes an original screenplay by Aaron Guzikowski and leads the audience on an unimaginable journey that is every parent's worst nightmare. Villeneuve's feature film debut brings to life an account about child abductions, similar to true stories told on American news stations today.
Prisoners is told from the perspective of two families who feel that the local police and lead detective Loki (Jake Gyllenhaal) are not doing enough to find their missing children. Victimized, these parents take matters into their own hands – especially one father, Kelley Dover (Hugh Jackman). Dover understands the small window of opportunity of finding children after being abducted. Dover's daughter Anna (Erin Gerasimovich) and her best friend Joy (Kyla Drew Simmons) go missing on Thanksgiving Day.
Joy is the daughter of Franklin Birch (Terrence Howard), Dover's friend and neighbor. After the two families share the holiday dinner together, the girls ask to go outside to play. Request is granted but as night falls the girls are nowhere to be found. The only thing the parents have to go on is the commentary by siblings that the two were last seen playing on a dilapidated recreation vehicle, parked on their street.
Patience is the virtue in Guzikowski's screenplay. Instead of demonstrating patience, Dover panics. A man of Christian belief, Dover misses his opportunity to put his moral code to the test. Instead, Dover makes life hellish for everyone around him, including himself. After the only suspect, Alex Jones (Paul Dano) is released for lack of evidence, Dover takes him prisoner. Held up in an old abandoned building, Dover allows himself to take revenge on his hostage. His narrow perspective of the situation skews the facts of his daughter's abduction and his prisoner's fate. Dover's conclusions get in the way of saving his own kin. The fear that Dover may never see his daughter again drives him to act out horrific irrational behavior that even his best friend, Birch, cannot support. The ensuing events demonstrate how far an individual is willing to go when suffering the mental anguish due to the abduction of a child.
Villeneuve, along with his all-star cast, creates a riveting and intense performance showing the dangers of putting oneself above the law. Religious symbolism is a consistent visual in the film. Guzikowski eloquently creates a spiritual thread between the main characters, each with a chilling backstory. The talents of a clever detective and the love of a persistent father eventually work together. They uncover the truth and expose the effects of mental insanity fueled by revenge. (Karen Pecota)