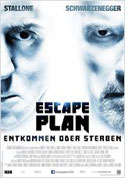 Opening 14 Nov 2013
Directed by: Mikael Håfström
Writing credits: Miles Chapman, Jason Keller
Principal actors: Sylvester Stallone, Arnold Schwarzenegger, Jim Caviezel, Faran Tahir, Amy Ryan
Summit Entertainment collaborates with renowned Swedish screenwriter and director Mikael Håfström for the action packed comedic thriller in his latest film The Escape Plan. Seriously, beware of comic relief moments in spite of the intense prison escape drama from screenwriters Miles Chapman and Jason Keller. Håfström's seasoned actors Sylvester Stallone, Arnold Schwarzenegger, James Caviezel, Vincent D'Onofrio, Sam Neil, Amy Ryan, Steven Krueger and 50 Cent – are an ideal cast for a thrilling escape plan worth producing.
Ray Breslin (Stallone) runs a business that specializes in breaking out of prisons around the world. The purpose of his venture is to report on the structural security of a prison facility. Breslin is without a doubt the world's foremost authority. Highly skilled and sought after, he agrees to take one last job before retirement. Typically the hire (authorities who hire Breslin to break-out) is a secret known only to Clark, Breslin and his team until the completion of Breslin's break-out. This time Clark is the only one who holds the key to the details, as well as Breslin's safety. Legitimate concerns loom over Breslin and his team regarding the job. Against the advice from his partners except one, Lester Clark (D'Onofrio), the deputy director of the Prisons Bureau, Breslin accepts the job. Clark sees the job purely as a financial profit being that it is Breslin's last caper.
Breslin views the job as the perfect exit to his fulfilling career as a world-renowned artist in the field of analyzing structural securities. Breslin's assignment is to break out of a super high-tech facility called The Tomb. Not only is the facility known to be unbreakable, its location is top secret. Breslin's team has cause to worry because they are going against their own safety protocol knowing that they will not be able to assist him if anything goes wrong.
The intensity mounts once Breslin goes into the facility and discovers he is wrongly imprisoned. His typical escape plan now requires alterations. Breslin is so good that he usually handles a caper solo. This new job requires a different level of trust from those on the inside. Breslin must first decide whom he can trust. Shock! Shock! He recruits fellow inmate Emil Rottmayer (Schwarzenegger) to formulate the perfect escape plan from the most protected and fortified prison known to man. The scene is the first for audience laughter! But, totally engaged!
Once Breslin wraps his head around his fate he concentrates on the need for a clear mind and maintaining his health. His only chance of survival depends upon a dare-devil attempt to escape with possibly only one opportunity to make a clean break. Breslin must accurately modify each of his practical steps for a typical break-out in The Tomb. He and Rottmayer systematically work together on these basic principles: Know the layout, understand the routine and get help from the outside, as well as, the inside. The hitch in Breslin's plan and damage to his psyche is that the prison warden Hobbs (Caviezel) is one step ahead of them on all fronts of the escape plan. (Karen Pecota)