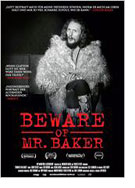 Beware of Mr. Baker
U.S.A. 2012
Opening 19 Dec 2013
Directed by: Jay Bulger
Writing credits: Jay Bulger

The film opens with the scene of a car entering a compound in South Africa and a sign that reads "Beware of Mr. Baker." This documentary by Jay Bulger takes a trip through the Odyssey of Ginger Baker, drummer, artist, mad man and animal lover. The narrative of the film is an interview with Ginger Baker about how he got into music and how he ended up living in South Africa with his fourth wife, 39 polo horses, and completely broke. Interviews with former bank musicians such as Eric Clapton, Jack Bruce and Steve Winwood add personal insight into who Ginger Baker was as a person and musician.
Baker was best known for his early bands "Cream" and "Blind Faith." His drumming attracted attention for its energy and his use of two bass drums rather than the conventional single kick drum, although a pioneer drummer whose influences can be heard from rock-n-roll to post-punk bands such as John Lyndon's. He preferred, and eventually returned to, being a jazz drummer, although Baker claimed "you can't put music into a box." His use of drugs and sporadic bursts of violence made him a character with whom many fellow musicians refused to play with again. None of his many bands stayed together for very long, although each one contributed something new to the music scene at that time. His influence stretches from early British rock-n-roll to Africa where he collaborated with the musician and political figure Fela Kuti and back to this love of jazz.
Today Ginger Baker may be aging and broke, but he'll never be broken as Jay Bulger discovers at the end of his interview, when Mr. Baker cusses at him and beats him with his cane, breaking Bulger's nose. The film uses a still form of black and white animation to tell part of the story and incorporates the image of a slave ship and red-headed Ginger Baker rowing to the beat of African drumming, always moving on. (Alana Leichert)


Second Opinion

Hands up if you've heard of Ginger Baker? If you have, then you probably remember the red-haired frenzied drummer of Cream, the group which eclipsed all others for a short, shining moment in the sixties. Today Ginger Baker is considered to be one of the best jazz drummers in the world.
Half way through the 90s journalist Jay Bulger wrote an article about Baker for Rolling Stone magazine, his curiosity was piqued and he decided to make a documentary about the man's extraordinary life. Bulger took his camera to the remote African home where Baker lives and managed to get the aging and ailing rock star to talk about himself. This was no easy task as Bulger had to negotiate the "Beware of Mr. Baker" sign at the entrance to his property, then the pack of large dogs guarding the house and, finally, the latent aggression of the man himself.
As the documentary unfolds, it is interspersed with musical excerpts from his past and comments from his colleagues, who describe a man obsessed with drumming. His three ex-wives (there is a fourth still with him) and his three children all felt second best and his only son, himself a drummer, is shown playing a duet with his dad, only to be banished from his life shortly afterwards.
The other members of Cream, guitarists and singers Jack Bruce and Eric Clapton, praise Baker's talent as a drummer but don't explain why, at the height of the group's popularity, he chose to move to Nigeria. Because he considered Africa to be the birthplace of drumming Baker turned his back on the rock-star life of money and fame to spend years there, practicing, playing and improving his skills.
The documentary is lifted out of the ordinary by the use of animated cartoons to describe episodes in the drummer's life, by the vibrant music of the sixties which is played throughout and by the self-deprecating humour of the old and ailing man.
How does it end? By Bulger being biffed on the nose by Mr. Baker's walking stick and being told in salty language to go away and stop bothering him with stupid questions. Only someone of Ginger Baker's stature as a world-class drummer (with a head smashed about with a life-time's worth of drugs) could get away with that. (Jenny Mather)