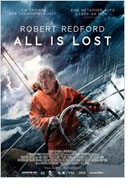 Opening 9 Jan 2014
Directed by: J.C. Chandor
Writing credits: J.C. Chandor
Principal actors: Robert Redford
1700 miles from the Sumatra straights. July 13, 16:50 hours. "I tried… I am sorry… all is lost here… I will miss you…" Black card: 8 Days earlier. Noise, lack of movement, and water gushing into his 39-foot yacht awakens Our Man (Robert Redford). Topside: wedged onto a shipping container afloat in an empty sea, the resourceful and long-time sailor disentangles, repairs, bails out water. Days pass. Eventually he reinstates the burner, relishing a hot dinner. Climbing to the mast's top to reconnect radio and navigation equipment, he realizes he is inadvertently on course with a violent storm. Instinctively he battens down, miraculously surviving with merely a sextant, maps, and meager supplies. Only to face-off other life threatening challenges.
Writer/director J.C. Chandor's film puts a new spin on awfulness. Special kudos to the actor and editor. Robert Redford's emotional restraint mirrors the hope, frustrations, challenges, and eventual despair that plummet him into an abyss whereby mortality stares back at him. Feeling the character's nuances, Pete Beaudreau edits accordingly, taking us along on the voyage. Frank G. DeMarco and Peter Zuccarini's cinematography explore the yacht's every nook and cranny, and from above and below the sea. Plunged into such a catastrophic personal experience leaves audiences with fare to reflect upon. (Marinell Haegelin)


Second Opinion

One actor. One director. Eleven producers. Several crew members. 1-1-11+ is the formula used for the latest film under the direction of filmmaker J.C. Chandor in All Is Lost. Chandor's one-man actor (Our Man) is none other than the seasoned artist Robert Redford. An unforgettable performance thrusts Redford into the limelight showing off his true-calling card as an actor.
Redford, known for mentoring filmmakers since the '80s under his non-profit organizations – The Sundance Institute and The Sundance Film Festival – is first and foremost a passionate actor and artistic painter. As the founder and president of two successful non-profits, Redford is proud of his accomplishments within an ever-growing community of independent filmmakers. Now, in his mid-70s, Redford takes the liberty to return to his roots in the thespian world. The desire to go back to what he does (acting, directing and painting) is a personal mantra mentioned in an interview with journalist Ann Hornaday. Redford is quick to warn against the pitfalls of success. He says, "Be careful of success, it has a dark side." Today, he takes his own advice, "At the height of your greatest success, always go back to zero." This spring he returned to the silver screen acting and directing a political thriller in The Company You Keep. Chandor leans-in to Redford's passion with a special invitation.
Chandor's first feature film Margin Call showcased at The 2011 Sundance Film Festival. During the festival Chandor handed Redford a script of All Is Lost (written by Chandor). He boldly asked Redford to star in his second feature film. The invitation was a first for Redford. Until Chandor's invitation, Redford had never been asked to star in a film made by any of the filmmakers within the independent filmmaking community which Sundance supported.
Redford's quick acceptance to Chandor's 30-page script, using no dialogue, was a huge compliment to the Sundance filmmaker. Redford had several reasons for taking on the role. One of which was the opportunity to work with a young filmmaker who got his start at the Sundance Film Festival. It's like coming full circle. Redford says of visualizing Chandor's script, "Its purity and boldness was attractive." He adds, "Though the filming would be in tanks, I would be in real wind and rain. It would be a chance to go back to a pure experience in filming."
Similar to the depth of Hemminway's Old Man and The Sea, Chandor embraces the depth of storytelling using real-life visuals to fill every inch of a silver screen for a powerful impact. Chandor allows an avid sailor to face uncanny elements while on a pleasure outing at sea; and draws the audience in with life-like visuals to closely experience the severity of his voyage.
The film opens with a male voice narration behind the backdrop of scenes of endless sea water of the Indian Ocean. The voice (Redford) apologizes for his actions and behavior to loved ones. In closing, he regrettably declares that "all is lost." A week earlier we see a lone sailor (Redford) on a solo voyage; he has collided with a shipping container floating at sea. The collision tears a gapping hole into the hull of the sailors' boat called the "Virginia Jean." The hole must be fixed but first he must safely detach his boat from the container without drowning along with his only mode of transportation back to civilization. Sea water ruins the rig's instruments for navigation and emergency needs. Each passing day presents the lone sailor with hurdles to overcome for survival while stuck on a lame sailing vessel floating aimlessly while unknowingly drifting into the eye of horrific storms.
Without the use of dialogue from the voice of the lone sailor to hear his thoughts, the audience is forced to put themselves into his shoes by solely observing his struggles for one solid week – day by day, hour by hour, minute by minute. One imagines, thinks and feels with the lone sailor his each and every attempt to survive unimaginable circumstances in the middle of an ever changing sea of events. (Karen Pecota)