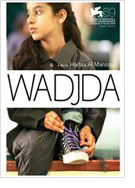 Opening 5 Sep 2013
Directed by: Haifaa Al-Mansour
Writing credits: Haifaa Al-Mansour
Principal actors: Waad Mohammed, Reem Abdullah, Abdullrahman Al, Sultan Al Assaf, Alanoud Sajini
This movie is a must for anyone concerned about the emancipation of women in the world. It is the first movie produced and directed by a woman from Saudi Arabia, Haifaa Al-Mansour, and depicts the position of women in Saudi Arabia in a very discrete, unsentimental and unequivocal manner. The plot centers around a young girl, Wadjda, who refuses to toe the line in many respects and wants to have a bike, a symbol of freedom from repression and independence. When Wadjda finally gets it at the end, the viewer is elated and anxious at the same time. You see her riding down a sand swept street in Saudi Arabia, moving towards a road full of traffic, and you wonder whether she will survive.
The movie begins with a shot of the feet of some schoolgirls in Saudi Arabia, most of them wearing white socks and black slippers and chanting some verses in unison. Then you see Wadjda's feet. She wears tennis shoes and shuffles her feet to the rhythm of the recitation. She waves surreptitiously to a couple of other girls passing by and is immediately reprimanded by the strict and humorless school principal. You see right away that this girl is unique. Then the camera switches to Wadjda's home and her lovely mother played by Reem Abdullah, a well-known TV star in Arabian countries. You are shown a gold-framed picture of Wadjda's father on the mantelpiece, one of a series of shots that convey an impression of what it is like to live in a totally male-dominated society. Wadjda's mother is stunningly beautiful but has not been able to produce the son her husband so covets. She lives in fear of her husband seeking a second wife, and does everything to pacify him: keeps her hair long and straightens it with an iron, fixes opulent meals for his friends and him while she and Wadjda eat leftovers, looks for a dress to wear to a wedding with which she can out-compete prospective second brides, turns down an attractive job offer because her husband would be jealous of the other men on the job. For any emancipated and free-thinking Western woman these subtle scenes as well as many others in the movie are hair-raising.
Al-Monsour shows us how Wadjda carefully and quietly observes all these demeaning incidents but does not accept them. Not even the threat to marry her off if she doesn't behave can deter her. She wants to be equal to men, particularly a neighbour boy with a bike called Abdullah. Obtaining a bike and beating Abdullah in a race become her mission and the focus of the film. The only problem is that girls are not supposed to ride bikes in Saudi Arabia. It is not feminine and could interfere with having children, as Wadjda's mother explains. This doesn't stop Wadjda, and she devises numerous ways to earn money for the bike she wants. Eventually she decides to participate in a Koran recitation competition in order to win a monetary prize. With the help of her mother and her own cleverness and determination she wins the competition but not the money. When she explains in public that she wants to buy a bike with the prize money, she is forced to give it to charity. Her mother, however, who has since become wife number two, decides that her daughter should have it better and buys the bike for her.
The "normality" of discrimination shown in this film is gripping. You find yourself wondering how women can live under such circumstances without losing their minds. But the movie is optimistic nevertheless. It shows various ways women find to out-trick the system, and Wadjda symbolizes a different future. Her friend Abdullah is also a promising figure, a cheerful and generous boy who supports Wadjda's efforts to learn how to ride a bike. The take-home lesson seems to be that there is still hope for women in Saudi Arabia.
This movie can't be shown in Saudi Arabia, because there are no movie theaters in the country. And even if there were some, women would probably not be allowed to attend them. So don't miss it here! (Pat Nevers)