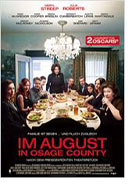 Im August in Osage County (August: Osage County)
U.S.A. 2013
Opening 6 Mar 2014
Directed by: John Wells
Writing credits: Tracy Letts
Principal actors: Meryl Streep, Dermot Mulroney, Julia Roberts, Chris Cooper, Ewan McGregor
Close your eyes and recall life's most uncomfortable moments – the ones that gave you stomach pains. Maybe it was the time you were wrongly accused of something at work and had to defend yourself to your boss. Maybe it was the time you had to celebrate Thanksgiving dinner with your family after a big fight, or walk back into that 2nd grade classroom after peeing your pants. Now stretch that moment out for two hours. That's what watching this film is like.
Oh yes, it is filled with incredible acting, and with a cast that includes Meryl Streep, Julia Roberts, Sam Shepard, Juliette Lewis, Ewan McGregor, and Julianne Nicholson, how could it not be? But I can't in all honesty say it was a pleasure to watch.
The storyline is simple. Upon receiving news that their alcoholic father has disappeared, three sisters, Barbara, Ivy, and Karen, all return home to Oklahoma to help their mother Violet, who has become addicted to prescription pills after contracting cancer. Together they learn that their father has drowned himself, and what ensues over the next several days is a series of confrontations, accusations, violent outbursts, stories and painful revelations that show us how anger and hurt are passed on from generation to generation. We slowly understand why Barbara's marriage is failing, why Karen chases the wrong men, and why Ivy wants to run away with the only man who has ever loved her – her cousin. And we begin to understand why none of them want to be in Oklahoma.
The only problem was, by the end of the film, neither did I. Still, it's worth a watch for the acting alone. (Shawn Klug)