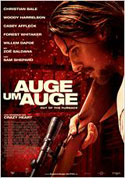 Auge um Auge (Out of the Furnace)
U.S.A./U.K. 2013
Opening 3 Apr 2014
Directed by: Scott Cooper
Writing credits: Brad Ingelsby, Scott Cooper
Principal actors: Christian Bale, Casey Affleck, Zoe Saldana, Woody Harrelson, Sam Shepard
This riveting, extraordinary thriller is, no doubt, an edge-of-your-seat film, but it is much more than that. Writer-Director Scott Cooper (whose directorial debut was Crazy Heart) chose an unusual place to shoot his compelling study of family loyalty, love and revenge: Braddock, Pennsylvania. Once a thriving steel town in the heart of the Pennsylvania hills, Braddock is today, a tight-knit community of strong, courageous people still holding on to hope after the downturn in the American steel industry in the 1980s, caused the closing of their mill.
The opening scene with Woody Harrelson (brilliant as Harlan DeGroat), the scariest psychopath you'll ever hope not to meet, prepares you for violence and fear. And then: cut, while the film diverges down another road and begins the story of two brothers, their family, and their lives.
Russell Baze (Christian Bale) is working at the huge furnace in the mill. Hard, dangerous, exhausting work, but a job Russell is glad to have in a town where jobs are almost impossible to find. His brother, Rodney (Casey Affleck), won't work in the mill. He has made three tours to Iraq and, like many soldiers, is expecting orders for a fourth, which he cannot legally refuse, although he is tormented by his memories of the war.
Rodney prefers to spend his time at one of the betting centers run by a friend, John Petty (Willem Dafoe), or drinking. The two brothers are close, bound by strong family ties. Their father is dying, and Russell shares his care with help from his uncle Red (Sam Shepard). Russell is deeply in love with a beautiful kindergarten teacher (Zoe Saldana) who wants desperately to have a child, but the couple has no luck. And then the story escalates. Russell works double shifts at the mill to pay Rodney's betting debts, and Rodney leaves for his Iraq duty. A great deal of unexpected things happens in his absence.
On his return, Rodney takes part in the well-paid street fights also run by his buddy, Petty, and he is determined that Petty take him to fight in New Jersey where he knows Petty owes big money to DeGroat, who lives hidden in the hills with his unscrupulous and brutal band. It is a fatal decision.
I do not want to reveal more of the plot – it is a great story, full of warmth, and completely unexpected twists, and it will enthrall you and keep you deeply engrossed. But do not misunderstand; the film is not for the faint of heart. Harrelson's portrayal of DeGroat is the personification of evil. The street fights are bloody and hard to watch. But Christian Bale's vivid, intensely personal performance as Russell – his fate, as well as that of his brother and uncle, is the hook which will hold you in your seat. It is a remarkable film, and every member of the star-studded cast is great. Suffice it to say – I will see this movie again! (Adele Riepe)