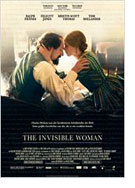 The Invisible Woman
U.K. 2013
Opening 24 Apr 2014
Directed by: Ralph Fiennes
Writing credits: Abi Morgan, Claire Tomalin
Principal actors: Ralph Fiennes, Felicity Jones, Kristin Scott Thomas, Tom Hollander, Joanna Scanlon
The British Broadcasting Corporation can be relied on to produce an authentic period drama which pays an immaculate and scholarly attention to detail. The surprise isn't that The Invisible Woman was nominated for Best Costume Design at the Academy Awards and the BAFTA Awards, but that it didn't win. The costumes, the design sets, the music and the cinematography are perfection. It is the content of the movie which is problematical.
Author Claire Tomalin was fascinated by the hidden life of a young actress named Ellen 'Nelly' Ternan, and script writer Abi Morgan along with director Ralph Fiennes have brought that story to life on screen. Nelly (Felicity Morgan) steps into her eldest sister's role when Fanny (Amanda Hale) is indisposed. Charles Dickens is at the height of his fame and popularity when he produces the play in which Nelly and her sisters and mother are performing. He has a wife and ten – yes – ten children, but his marriage has lost its lustre and he takes a shine to fresh, pretty, eighteen year old Nelly from the minute he sees her.
Dickens is bored with his wife and, trapped by his fame, he knows that the myth of the devoted husband and father must be perpetuated in order to keep his fickle but adoring public happy. Victorian morals were such that a slip in his conduct would mean a decline in book sales and an end to his lucrative book readings and book tours. Yet Nelly is so pretty and so much more of an intellectual match for him than Charlotte (Joanna Scanlon). What to do? What to do?
Mrs Ternan (Kristen Scott Thomas) is a widow who lives with her daughters in genteel poverty. She wonders if the developing attraction she sees between Nelly and Dickens should be encouraged, particularly as Nelly has not inherited her parents' acting talent. Like her mother and sisters, Nelly knows that she will risk all if she ventures on an affair. What to do? What to do?
Dickens and his friend Wilkie Collins (Tom Hollander) spend more and more time with Mrs Ternan and her girls, and the die is cast. Dickens whisks Nelly away for a birthday treat and introduces her to Collins` mistress Caroline Graves (Michelle Fairley). Ellen is outraged to be introduced to a woman who lives openly with a man who isn't her husband (though she has no qualms about being friendly with Mr. Collins) and demands to be taken home. Dickens' intention is to suggest that such a situation could be a possibility for them and Nelly, who cannot ignore her feelings for Dickens is soon drawn into a secretive relationship with a wealthy man who is more than twice her age. He is forty five to her eighteen.
The movie opens to a much older Nelly striding purposefully along the beach in Margate, Kent as the waves pound against the pale sand and the wide, grey sky looms above the troubled lady beneath. The movie develops in flashbacks and the emotional tension builds as the story unfolds. The affair plays out and Nelly must deal with its aftermath. She has managed to keep it secret from her husband and works hard at her new life. The kindly vicar, Reverand Benham (John Kavanagh), has an inkling of her hidden past and listens to Nelly when she unburdens her secret.
The unattractiveness of the actions of the two main characters in the movie is at odds with the beauty of their surroundings. The problem is that it is hard to sympathise with a man who is prepared to abandon his wife and ten-yes-ten children to distress and embarrassment while he embarks on an affair which must be shrouded in secrecy and denial. For her part Nellie never once seems to consider the effect of her actions on Catherine Dickens and all the innocent children involved. This is a clever movie, gorgeous to look at but it disappoints because its main characters are unappealing. (Jenny Mather)


Second Opinion

Who better to depict the tawdry (so considered in Victorian England) little secret – rumors flourished – of the luminary author Charles Dickens than the British? Based on the book by Claire Tomalin, Shakespearean enthusiast Ralph Fiennes agreed to direct and later was persuaded to portray the multi-faceted Dickens as well. The invisible woman at the heart of the May-December romance – 1857 to 1870 – was Ellen Ternan, whose bewitching spirit Felicity Jones captures, nicely counterbalanced by Joanna Scanlan as the stoic if dour wife Catherine and Kristin Scott Thomas as Ellen's ever-practical mother.
British filmmakers have a knack for leisurely storytelling, embellishing with beautifully defined period clothing and sets. Maria Djurkovic's Production Design, Nick Dent's supervising Art Direction, Tatiana Macdonald's Set Decoration, and Michael O'Connor's Costume Design supported by Jenny Shircore's Makeup Department render the opulent, tactile ambient qualities of England's polite society from 1857 until well after Dickens 1870 death. Which Rob Hardy's Cinematography caresses, likewise the compelling performances. Infusing characters with complex emotional scale reveals how the – now archaic – customs affected those contemporaries. What this biographical drama lacks is steadfastness. Fiennes has directed before yet there is a certain naiveté that might be enduring if not for Editor Nicolas Gaster's many time-jumps. The too-often cuts marginalize concentration on the nuanced story. Some might think this enhances tension but consider: just as Dickens and Catherine square off, or he strokes Nelly's cheek – flash-forward to the present and a distant figure on the beach (or whatever), then back. Often we only catch a glimpse of where we briefly landed.
Dickens' "magic circle of one" dominated his heart until his death. Although uneducated, Dickens was a publisher, a social critic, and a prolific writer whose novellas, books, et al, are classics largely characterized on persons he knew, also from his welfare ministrations. The Invisible Lady entices further delving into Charles, wife Catherine, and Ellen's fascinating life stories. (Marinell Haegelin)