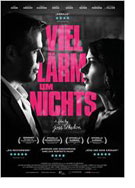 Viel Lärm um nichts (Much Ado About Nothing)
U.S.A. 2012
Opening 24 Jul 2014
Directed by: Joss Whedon
Writing credits: Joss Whedon, William Shakespeare
Principal actors: Amy Acker, Alexis Denisof, Nathan Fillion, Clark Gregg, Reed Diamond
There are many characters and subplots in Much Ado about Nothing, one of Shakespeare's romantic comedies, and director Joss Whedon has bravely changed the setting and brought it forward four centuries for today's audience.
Don Pedro, the Prince of Aragon (Reed Diamond) has returned home from a triumphant battle in Messina and, along with some of his most trusted soldiers, stays with the governor, Leonato (Clark Gregg) in his home. Leonato arranges a masked ball for his guests and soon, victorious soldiers being victorious soldiers, love is in the air. Claudio (Fran Kranz) falls for Leonato's daughter Hero (Jillian Morgan) and Benedict (Alexis Denisof) meets his old flame and flirtatious sparring partner Beatrice (Amy Acker) who happens to be Hero's cousin. Leonato agrees to his daughter's marriage to Claudio but stipulates that they must wait seven days before it takes place. Don Pedro, meanwhile decides to help his friend Benedict move his relationship with Beatrice up a notch or two.
Don Pedro unfortunately has a nasty, jealous illegitimate brother Don Juan (Sean Maher) and he plans to thwart Claudio's happiness by convincing him that Hero is two-timing him. This will lead to Claudio dramatically and rather spitefully jilting Hero at the altar. In the commotion that follows this revelation Hero will faint away in best Shakespearian tradition.
Just before the wedding is due to take place Don Pedro decides to play Cupid and arranges that Benedict and Beatrice will accidently overhear that they are loved by each other. Benedict is hiding in the garden and listening in at the window when this happens and Beatrice is skulking under the kitchen cupboards when she hears the same news.
It is at this point that the plot becomes really silly. The Friar who intended to marry Hero and Claudio smells a rat and tells Leonato, Beatrice and Benedict to pretend that Hero has died from shock after the humiliation of being jilted in the hopes of smoking out the truth. Constable Dogberry (Nathan Fillion) and his men have already stumbled on the truth but Leonato hasn't time to listen to them as he rushes off to the wedding.
If your interest is piqued or if you can't remember from your school or college days how the play ends, then this might be the movie for you. While puzzling out the plot you may ponder over a few more things, such as which decade it is set in. The governor's house appears to be furnished in a sixties time warp, but the maids wear those frilly aprons and caps more usually seen in Miss Marple movies set in the thirties. All the men are smartly dressed, seemingly from "Madmen" times, but the women wear ghastly dresses from goodness knows which era. Perhaps you will spot some clues and can work it out. You may also wonder why the movie was filmed in black and white and ask yourself if this adds or detracts from it.
What is in no doubt, however, is the skill of the actors. It can't be easy to speak Shakespeare's lines today and make them sound relevant to a modern audience, but these actors do it beautifully. Neither can it be easy to make Shakespeare intelligible and not too difficult to follow without dumbing down, but this has been managed seemingly with ease. Joss Whedon has taken a centuries old play which truly is a lot of fuss about nothing and turned it into a lively and entertaining movie which modern audiences can enjoy. (Jenny Mather)