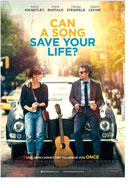 Can a Song Save Your Life? (Begin Again)
U.S.A. 2013
Opening 28 Aug 2014
Directed by: John Carney
Writing credits: John Carney
Principal actors: Keira Knightley, Mark Ruffalo, Adam Levine, Hailee Steinfeld, Mos Def
Take a down-at-heel music producer who hasn't found a new singer in five years and a young, pretty singer-songwriter whose long term relationship is falling apart and what do you get? You get this feel-good movie.
Music producer Dan (Mark Ruffalo) is having a terrible day, he's just been sacked by the very members of the music company he founded. He spends his time drowning his sorrows and ends up in a club where Gretta (Keira Knightly) is warbling a plaintive little ditty which echoes the feelings in her heart. She was coaxed to the club by her friend Steve (James Cordon), who was trying to cheer her up, but she was reluctant to perform there.
Well, Dan heard Gretta's song, mentally added a musical backing and knew he had a winner on his hands. He wanted to sign her up immediately, quite forgetting that he was penniless and out of work. Gretta knew that her boyfriend Dave (Adam Levine) was distancing himself from her as fame and fortune came his way, and she knew that she had nothing to lose. She accepted Dan's offer, and they set about making a CD of her songs.
Dan had to improvise; he hired musicians who would work for nothing but the hope of future royalties, and he used New York City as his music studio. Gretta and her backing group record in an alleyway and get the group of children playing ball there to accompany them for five dollars each and a cigarette. They record from two rowing boats on the lake in Central Park, from the roof of a skyscraper with a backdrop of the Empire State Building and in the subway, all the time keeping a lookout for the police who chase them away at every opportunity.
The movie is fleshed out with sub plots which help it along. Will Dan and his estranged wife Miriam (Catherine Keener) get back together again? Will their daughter Hailee stop behaving like a spoiled brat? Will Gretta and Dave make up? And most of all, will the CD be produced and then be successful?
Can a Song Save Your Life? is full of the optimism and enthusiasm which characterise America. Add a lively soundtrack and glimpses of this photogenic city, and you have the recipe for this happy, light-hearted movie. (Jenny Mather)