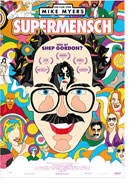 Supermensch - Wer ist Shep Gordon? (Supermensch - The Legend of Shep Gordon)
U.S.A. 2013
Opening 18 Sep 2014
Directed by: Beth Aala
Writing credits: Beth Aala, Mike Myers

Who is Shep Gordon, you ask? For almost half a century this man has made stars from musicians, actors and TV chefs, amassing fame and fortune for them and a wonderful lifestyle for himself. He made a star of Mike Myers in the movie Wayne's World and Mr. Myers has returned the compliment by making a documentary about Mr. Gordon.
If ever a man was in the right place at the right time it was Shep Gordon, but, just as important, he was blessed with an eye for talent, a gift for publicity and a generous nature. He looks like a university professor today and seems to be a quiet, kindly person with a good sense of humour. He talks directly to the camera throughout the documentary, as do the other members of the cast, with added clips from earlier times to enhance his stories.
After attending university in Buffalo in the sixties and a very short stint as an overly idealistic probation officer in California, Shep pulled in to a hotel in Los Angeles to rest and assess his future. Hotel guests just happened to include Janis Joplin, Jimi Hendrix and Alice Cooper and Shep just happened to have a suitcase full of grass and some acid. Soon he was drug dealer to the stars and became their trusted friend. Today he and Alice Cooper, two old darlings, play golf together, but Shep was shrewd enough in the early seventies to understand the rebellious mood of the times. He became Alice's manager and promoted all the bad boy publicity needed to have people flock to his concerts and buy his records. Success was immediate and today he represents fifty-seven musicians, actors and celebrity chefs.
As if managing musicians weren't enough, Shep turned his hand to film-making, once again being extremely successful. His first production, The Duellists, directed by Ridley Scott, won the prize for the best debut film at the Cannes Film Festival. He later won an Oscar for The Kiss of the Spider Woman.
In Cannes Shep met Sharon Stone and Roger Verve, who is the father of Nouveau Cuisine. An interest in both was kindled, resulting in a love affair with Ms. Stone and a life-long interest in food. Shep is now a master chef who loves to cook for guests at his home on Maui. This love of cooking led to promoting TV chefs and their products, resulting to success and wealth for them too.
The man with the golden touch is also a Mr. Nice Guy. The east coast Jewish boy morphed into a Buddhist (he calls himself a Jewbu) and a follower of the Dalai Lama. His many charitable interests reflect his work interests. He heads up a relief fund for Tibet, coordinates the Roger Verve Culinary Scholarship fund, is developing the Hawaii regional cuisine movement and works for the American Liver Foundation. So, is his life fulfilled? Well, actually, he says it isn't, and he has a tremendous feeling of regret. Can you guess what that regret might be? (Jenny Mather)