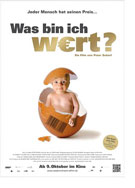 Was bin ich wert? (The Price of My Life)
Germany 2014
Opening 9 Oct 2014
Directed by: Peter Scharf
Writing credits: Jörn Klare, Peter Scharf

Have you ever thought about how much money you are worth? If you were to die, or lose a leg or sell your hair, how much capital would you be worth? Would it matter how old you are? Would it make a difference where you live or what country you were born in? Journalist Peter Scharf decided to look into these questions. With his documentary Was bin ich wert?, he travels to different countries, interviews different experts, victims, and survivors who all have some personal relationship with the question. He explores different methods of deciding the worth of a human life.
First he looks into how much money each part of his body would be worth. His donated blood and plasma could bring in up to 700 euros a year, his donated semen up to 1800 euros a year. What if he were to lose an arm and couldn`t work anymore? How much money could he sue for? Would his arm be worth more than someone else's arm? What about his hair? In the Ukraine he talks to an expert in selling hair and finds out which race produces more expensive hair, i.e., Asian versus Slavic hair. In Romania he interviews three men who have illegally donated organs. Was it worth the money they received? How did it change their lives?
A large part of the documentary takes place in the USA. Peter Scharf talks to the American lawyer representing family members of victims from the sunken cruise ship Costa Concordia. He also talks to Ken Feinberg, the man whom the US government hired to decide how much the family members of victims of 9/11 should be compensated. How can someone make this kind of decision? Feinberg explains what criteria had to be taken into account, and why, to come to a decision like this.
The documentary looks into a simple question with an almost impossible answer. Professors have come up with actual mathematical formulas to determine a single person`s monetary worth. What cannot be taken into account are morals, dignity, and fate. Is it necessary to make decisions on the worth of a human life? To report about it? It is hard to write about the subject without posing question after question. The answers are wholly subjective and open to debate. (Alana Leichert)