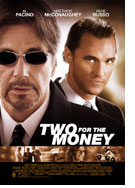 Das Schnelle Geld (Two for the Money)
U.S.A. 2005
Opening 16 Feb 2006
Directed by: D.J. Caruso
Writing credits: Dan Gilroy
Principal actors: Al Pacino, Matthew McConaughey, Rene Russo, Armand Assante, Jeremy Piven
Screenwriter Dan Gilroy became enthralled by the life story of his golf caddy, and with a few changes it became the script for a film about innocence corrupted. The young caddy had been a star basketball player for the University of Nevada - Las Vegas until a knee injury took him out of the game. He was working as a telephone marketer and filled in for a co-worker giving picks on a sports gambling line. He had a real knack for it and caught the eye of a New York sports advisory firm, and years later a film was born.
The story could have just been about the evils of gambling and the corruption of the ideals of sport and of youth. However, this accounting of the gaming industry pushes it up a notch. It shows the artful gaming of the gamers of the games, where the vulnerabilities of the individual gamblers are exposed and abused. This is where it should get fun, watching those who aren't playing by the rules get taken to the cleaners by foul mouthed and abusive "advisors". But there is no joy in watching peoples' lives and families destroyed by addiction.
Al Pacino (Any Given Sunday, The Devil's Advocate) plays the devil convincingly again as a recovering gambler and the unscrupulous owner of a New York sports advisory firm. In his appearance at a recovering gamblers meeting where he encourages the others to make the weekend bets he displays his faustian best. Matthew McConaughey (Sahara, Amistad) plays the wholesome ex-football player who is lured and seduced into the high-rollers league of gambling, where winning becomes a matter of life or death. Rene Russo (In the Line of Fire, The Thomas Crown Affair) plays the wife and recovering drug addict who tries to protect the young man from her self-destructive husband and the uncertain world of gambling.
Betting on sporting events is illegal in most states, however giving advice and taking a percentage is perfectly legal. Cantor Index's financial and sports divisions legitimately handle spread betting on the major stock and futures indices, as well as on sports, and claim that unlike conventional trading, the bet is even tax free. So, where's the problem? (Patricia Ritz)