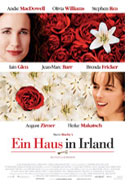 Opening 29 Dec 2005
Directed by: Gilles MacKinnon
Writing credits: Cynthia Cidre, Maeve Binchy, Shane Connaughton
Principal actors: Andie MacDowell, Olivia Williams, Stephen Rea, Heike Makatsch, Jean-Marc Barr
Maeve Binchy, a wildly successful Irish romance writer, wrote the book on which the script for this film is based, and like most of her books, the movie is full of clichés and is superficial and predictable.
Two women suffer loss: Marilyn Vine's son is killed in an accident on his 15th birthday in Connecticut; Ria Lynch's husband (who eventually turns out to be a serial womanizer) announces that he is leaving her to marry his pregnant mistress in a suburb of Dublin. Both women are devastated and uncertain of how to continue their lives. Marilyn Vine (Andie MacDowell) decides she desperately needs a change of scenery and calls Ria Lynch (Olivia Williams), wanting to speak to her realtor husband (Iain Glen) whose business card she has, but as he is no longer there, she tells Ria that she is looking to exchange her lovely big house for an equivalent near Dublin for a couple of months. Ria offers her house on Tara Road, and the deal is made. Ria is off to Connecticut where she gains back self-confidence, is romanced by Marilyn's handsome brother-in-law (Jean-Marc Barr) and gets a job as a cook. Marilyn finds friends and a suitor in Colm (Stephen Rea) on Tara Road, but remains true to her husband Greg who eventually turns up there.
For a brief period of time it looks like Ria will lose her beautiful house on Tara Road because her husband had put it up as collateral for the company he works for and now that company has gone broke. Do I need to tell you that it all turns out wonderfully in the end, after all?
Even Andie MacDowell's brilliant smile, a very believable performance by Olivia Williams and two truly lovely houses are not enough to rescue this clunker. (Adele Riepe)