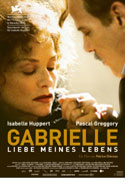 Gabrielle - Liebe meines Lebens (Gabrielle)
Germany/France/Italy 2005
Opening 12 Jan 2006
Directed by: Patrice Chéreau
Writing credits: Patrice Chéreau, Anne-Louise Trividic, Joseph Conrad
Principal actors: Isabelle Huppert, Pascal Greggory, Claudia Coli, Thierry Hancisse, Chantal Neuwirth
Paris, 1912. We meet Jean Hervey (Pascal Greggory), an obviously successful man, as he leaves the train on his way home to his elegant villa, his elegant wife and until this moment, his perfect life.
When he gets there he finds a note from his wife, Gabrielle (Isabelle Huppert) telling him she has left him for another man. A few hours later, Gabrielle returns home and the film, until this moment a pastiche of flashbacks from the busy social life of the Herveys in their enormous, luxurious villa (where two maids are required to help each of the pair change clothes for dinner), takes an ominous turn underscored by equally ominous music.
Director Patrice Chéreau has said that the film should answer the question, "Why does she come back?". It doesn't. Huppert as Gabrielle maintains an icy calm while her husband reacts with hysteria, tears and violence. Some of the excruciating duel between the two plays out in front of the personnel, who appear to be unseeing or at least, unmoved. Another scene is held in the middle of the couple's famous Thursday night soiree with 30 or so of the Upper Crust looking on with distaste. The violence beneath the surface, the deeply wounding exchanges and Gabrielle's verbal knife thrusts are the heart of the film; a film, incidentally, in which the dialogue is the third star. To comprehend and appreciate those intense, intellectual exchanges in the original, you would need to be perfectly fluent in French. Failing that, I suggest you wait, for once, for the dubbed German version. The German subtitles whisked by at such speed that they were often impossible to read, and it was clear that one was missing a great deal of what was being said.
The images, sets and costumes, and especially Huppert's face, are haunting and the acting is superb, but I found the film a difficult, uncomfortable experience. (Adele Riepe)