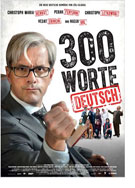 Opening 5 Feb 2015
Directed by: Züli Aladag
Writing credits: Ali Samadi Ahadi, Züli Aladag, Arne Nolting, Gabriela Sperl
Principal actors: Nadja Uhl, Pegah Ferydoni, Christoph Letkowski, Christoph Maria Herbst, Nursel Köse
Foreigners: intruders and uneducated outsiders are potential troublemakers. The last knight to face the immigration dragon is pedantic Dr Sarheimer (Christoph Maria Herbst), an official of the Immigration Department (Ausländeramt) of Köln. Having no other way to stop young Germans of Turkish ancestry from marrying imported brides, he insists on rechecking language proficiency of every fiancée. Only those, who proved to have a German vocabulary of a minimum 300 words, are eligible to stay in the country. The rest are doomed to be deported. His challenger, the prayer leader of the local Mosque Cengiz Demirkan (Vedat Erincin), lovingly provides his congregation with young women, who were brought up in accordance to the traditions of his former homeland. And between the two fires is struggling Lale (Pegah Ferydoni), who is forced to live a double life of a modern, self-conscious woman, studying Linguistics and practicing martial arts on the one hand, and playing a good Turkish daughter, ready to marry her father's choice upon graduation, on the other.
The story has many typical elements of a comedy of Elizabethan times. The plot is made up around the struggle of young people (Lale and Marc) to overcome hazards instigated by authorities (Dr Sarheimer) and the family (Demirkan), to find their love. A clever servant (secretary Connie), a character with mistaken identity (a blond Turkish prostitute), disagreements and misunderstandings within Turkish families, multiple intertwining storylines and a happy ending support the light-hearted style.
Behind the comic form a viewer will find a touching drama about youngsters growing up between the worlds, about parents longing to reconstruct their home habitudes on German soil at the expense of their children, about coming of age and making choices, a universal story understandable to all living outside their passport country.
As a king would need his fool to learn the truth, so do we need a comedy to face demanding issues of the globalisation era. (Anna Sizorina)