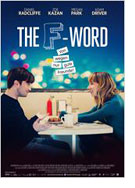 The F-Word – Von wegen gute Freunde! (What If)
Ireland/Canada 2013
Opening 9 Apr 2015
Directed by: Michael Dowse
Writing credits: Elan Mastai, T.J. Dawe, Michael Rinaldi
Principal actors: Daniel Radcliffe, Zoe Kazan, Megan Park, Adam Driver, Mackenzie Davis
This is the story of Wallace (Daniel Radcliffe), who has retreated from the world of love and dropped out of medical school after being burnt by his girlfriend. Wallace meets Chantry (Zoe Kazan) at a party and they immediately click. After an evening of fun banter Wallace comes to discover that Chantry lives with her longtime boyfriend. This disclosure puts the offer of friendship on the table and takes us through the "what ifs" of friendship or love for this young couple.
The age-old question of whether men and women can ever truly be 'just friends' is asked from the start. As the world contrives to bond Wallace and Chantry, we see both denying their feelings and continuing to be 'just friends'. Wallace struggles with his feelings and whether or not to tell Chantry, thus risking their friendship. Chantry faces her own turmoil trying to understand if you can really truly love one person and develop feelings for another. How these two reconcile their emotions and come to decisions about their future is entertaining and sweet. The issues they need to address are ones many have come across; old love vs new love, choosing the perfect partner, friend vs lover, and finally do you ever need to make a relationship work or is that the death knell for true love.
The witty repartee is fast paced and humorous between Radcliffe and Kazan. There is an obvious chemistry between the two stars, which gives this movie a little bit more than the average rom com. (Christine Riney)


Second Opinion

It's been 25 years since Billy Crystal and Meg Ryan charmed audiences in When Harry Met Sally as friends who insist that love and friendship are incompatible and to be avoided for the sake of friendship. In this romantic comedy, Chantry (Kazan) and Wallace (Radcliffe) don't have such 'deep convictions'; it's more a question of unlucky timing. They meet at a party and hit it off so well that a romance seems inevitable. For Wallace the evening ends in disappointment. He is ready for a new relationship; Chantry is happy with her long-term live-in boyfriend Ben (Spall). Pointless to keep her phone number. But then they run into each other shortly after and decide to be friends. Wallace hides his true feelings; Chantry isn't aware of hers. Their friends, Alan (Driver) and Nicole (Davis) – go-getters when it comes to love and therefore quite the opposite – try their best to help fate along, though not exactly with the desired outcome.
What If manages to maintain an entertaining lightness and still incorporate a view on the problems and decisions today's twenty-something generation faces. There is a lot of fresh talent to watch and well-written lines to enjoy – particularly between Chantry and Wallace who have a quick-witted way of countering each other's remarks. (Carola A)