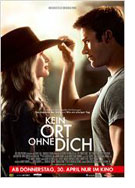 Kein Ort ohne Dich (The Longest Ride)
U.S.A. 2015
Opening 30 Apr 2015
Directed by: George Tillman Jr.
Writing credits: Nicholas Sparks, Craig Bolotin
Principal actors: Scott Eastwood, Britt Robertson, Alan Alda
Champion bull rider Luke (Scott Eastwood) is thrown from Wrango, the fiercest bull, in 1991, suffering a severe injury. Eight years later Luke is determined to make a comeback and capture the world title. While competing Luke loses his hat, then gallantly gives it to a pretty, non-buckle-bunny lass. When not on the circuit Luke ranches, whereas Sophia (Britt Robertson), weeks away from graduating college, has an internship waiting in New York City. A unique first date ends with saving an older gent (Alan Alda) at the scene of a car accident. Remaining at the hospital, Sophia subsequently reads Ira letters saved from his car. Flashbacks introduce us to a younger Ira (Jack Huston), his cherished Ruth (Oona Chaplin), and their profound love story. With Luke's competition ride and Sophia's departure quickly approaching, Ira's yarn helps them define their relationship.
Craig Bolotin's screenplay, based on Nicholas Sparks' bestselling like-named novel, transcends the decades easily, and under George Tillman Jr.'s capable direction traverses the diverse worlds the characters move in. As the well-mannered, hard-working torn cowboy, Eastwood is more than likeable, while Robertson convincingly portrays a genuinely wholesome, focused individual, and Lolita Davidovich's mom is caringly sage. Alda's pragmatic sincerity, however, grounds the film in warm-hearted plausibility. Kudos to Huston and Chaplin's poignant portrayals. Mark Isham's music and Jason Ballantine's editing is worthy; David Tattersall's cinematography captures North Carolina's lushness and the awe of rodeo sports.
Taming bulls dates to the Minoan culture, with roots in Mexican equestrian and ranching skills contests as early as the 16th century that crossed the border into California and Texas by the mid-19th century. Bull riding in the U.S. requires riders, holding onto a braided rope with one hand, stay on a bucking bull for eight seconds. No wonder many call it "the most dangerous eight seconds in sports". Bull riding continues in Mexico, Canada, Costa Rica, Guatemala, Nicaragua, Argentina, Brazil, Australia and New Zealand with varying customs. The film's rodeo scenes are overwhelming; the Professional Bull Riders association was involved. As Kate points out to her son, "It's eight seconds, that's all it is – that girl? She could be the rest of your life". (Marinell Haegelin)


Second Opinion

The stars of The Longest Ride are Alan Alda, who plays the aged Ira Levinson and adds much needed depth to the movie, as well as and the stunning scenery of North Carolina. Take these away and you have an okay movie with a sentimental script and limited appeal. It's the sort of movie best watched on Valentine's Day.
Sophia (Britt Robertson) is in her final semester at Wake Forest University and has an internship at a fancy art gallery in New York City to look forward to. Her sorority sisters persuade her to tear herself away from her studies and to visit a rodeo .Here she meets and falls for Luke (Scott Eastwood) who is one of the cowboys performing at the rodeo. Luke is a bull rider, he must stay on the back of a bull for as long as he can before the irate creature bounces him off and this is where the movie's title comes from. Luke wants to conquer his fear, put past demons to rest and succeed in becoming one of the best bull riders in the world. It takes all sorts and we all have our dreams!
Sophia turns up for her first date wearing a cleavage revealing T shirt and shorts so short they resemble underwear. She looks as if she's forgotten to put her skirt on. Despite this Luke manages to keep his composure and behave like the well- mannered country boy that he is. The pair drive off in Luke's oversized truck for a lakeside picnic with North Carolina's gorgeous mountain scenery as a backdrop.
On their way home after the picnic they meet Ira, whose story of his love affair with Ruth unfolds as Sophia and Luke's begins. The young Ira (Jack Huston) met Ruth (Oona Chaplin) when she was a young girl fleeing from her native Vienna during the Second World War.
So here is the film based on Nicholas Sparks' novel. Can the cowboy who must look after his widowed mum, keep the family farm going and achieve his bull riding dreams have a future with the townie who has the prospect of an exciting career in New York's art world at her fingertips? Can the shy young man who works in the family shop captivate and keep the exotic beauty from overseas? Will there be a happy ending to their stories? Well, what do you think? This is a movie to watch when you need some escapism from the humdrum of everyday life. (Jenny Mather)