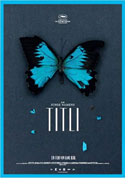 Ein Junge namens Titli (Titli)
India 2014
Opening 28 May 2015
Directed by: Kanu Behl
Writing credits: Kanu Behl, Sharat Katariya, Olivia Stewart
Principal actors: Shashank Arora, Lalit Behl, Shivani Raghuvanshi, Ranvir Shorey, Amit Sial
Director Kanu Behl's movie about a young man born into the slums of Delhi could have been very depressing, but instead it ends on a note of optimism. Titli (Shashank Arora) is born not only into poverty but also into a family of petty criminals. Despite the double whammy which life has given him (and perhaps, because his name means butterfly), he is determined to improve his lot. His plan is to save up and rent some space in a parking lot which he can then sublet. This would allow him to keep the parking charges of the cars in his space. He is thwarted in his plan because he can't pay the expected bribe in order to secure his space.
Titli's indolent father (Lalit Behl) and criminal brothers decide that he will settle down and forget his high flying ideas if he has a wife to occupy his time. Together they arrange a marriage to Neela (Shivani Raghuvanshi) for him. The bride is as reluctant to marry as Titli is and one wonders why her parents agreed to give away their daughter to a member of a family with such a terrible reputation. All this, and the reasons behind Neela's secret life, become clear as the movie develops.
While his brothers sink further into their life of crime, Titli starts to grow up. He challenges his father's lazy and negligent attitude towards his sons' upbringing, and he makes an attempt to understand the reason for Neela's unhappiness. The question is, will Titli join his brothers in the criminal underworld, or will he and Neela manage to secure a more positive future for themselves?
This movie touches on many aspects of life in modern day India and offers an absorbing insight into this fascinating country. It is far removed from standard Bollywood musical fare and is all the better for that. Titli has won a slew of Filmfest awards, which include The Camera D'Or at last year's Cannes Film Festival and Best Film awards at the Seattle Asian Film Festival and SAIFF New York. (Jenny Mather)