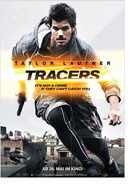 Opening 28 May 2015
Directed by: Daniel Benmayor
Writing credits: Leslie Bohem, Matt Johnson, Kevin Lund, T.J. Scott
Principal actors: Taylor Lautner, Marie Avgeropoulos, Adam Rayner, Rafi Gavron, Luciano Acuna Jr.
Quite honestly, I couldn't find much acting or a plot to speak of in Tracers. But in this case, it does not matter, because, here, the real star is Parkour - the art of acrobatically overcoming obstacles in urban environments.
Cam (Taylor Lautner) is a bike messenger who owes the Chinese mafia a lot of money. When he meets the mysterious Nikki (Marie Avgeropoulos), he is introduced to the art of Parkour. Cam is very talented, which is why his new acrobatic skills introduce him to a business opportunity that could prove to be the solution of his financial problems. He and his friends are a specialized gang that hires out their abilities to Miller (Adam Rayner), who orchestrates grand thefts. Soon however, things become very dangerous, and Cam must realize that owing the Chinese mafia might be the lesser of two evils.
And now to the good part. The love story and the action are only retainers for the amazing display of what humans can really do with their bodies. According to the film's stunt coordinator, no action scenes in the movie were later altered by digital effects. And Taylor Lautner, who is very athletic in real life, did 95% of the stunts himself (because 5% of the stunts were not covered by insurance, not because he couldn't have done them). So while the story kept me unengaged, I couldn't wait for the Parkour running to happen. It never disappointed. (Katia Trost)