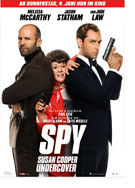 Spy - Susan Cooper Undercover (Spy)
U.S.A. 2015
Opening 4 Jun 2015
Directed by: Paul Feig
Writing credits: Paul Feig
Principal actors: Melissa McCarthy, Rose Byrne, Jude Law, Jessica Chaffin, Miranda Hart
David Feig's (Bridesmaids, The Heat) action comedy is chuck-full of hilarious ideas, lines and innuendos, poking fun – among other things – at your typical movie spy; in the lead is Melissa McCarthy whose background as stand-up comedienne serves her well. She fills her role with heart and humor.
Susan Cooper (McCarthy), though a trained CIA agent, has never been sent into the field. Instead she guides 007-wannabe Bradley Fine (Jude Law) out of precarious situations long distance from her desk. From her monitor she can observe not only his moves but also those of his adversaries. Almost all. When Bradley gets taken out, there is no agent that could take over. Everyone's cover has been blown. Susan volunteers to infiltrate the enemy and try to save the world from disaster. While your run-of-the-mill movie spy – usually high-class and highbrow – has a buff body, snazzy outfits and a high expense account, and is armed with clever little high-tech survival-toys, Susan is none of this, gets none of this. But with the assistance of her partner at the agency, Nancy (Queen of Comedy Miranda Hart), this most unglamorous agent will prove herself. (Carola A)


Second Opinion

We all cheer for the underdog, and boy, is there an underdog in this movie. Susan Cooper (Melissa McCarthy) works for the CIA at its headquarters in Langley. From her desk in the basement there she pilots top agent Bradley Fine (Jude Law) through death-evading missions via a microphone in his ear. She has, of course, an enormous crush on the debonair James Bond copycat who shoots baddies by the handful without so much as wrinkling his dinner jacket or messing up his immaculate hairstyle.
When Bradley is seen to come to a sticky end at the hands of beautiful Bulgarian gangster Rayna Boganov (Rose Byrne) Susan's chance to shine has come. The business-like head of the CIA Elaine Crocker (Alison Janney) decides to take a chance on Susan and sends her off to investigate Rayna and the nuclear bomb she has for sale. Crocker also instructs Susan's friend and colleague in the CIA basement Nancy (Miranda Hart) to see what the novice spy is up to when she appears to overreach her brief. Will Nancy be able to keep her friend out of trouble and save her from dastardly deeds?
Spy is a full of stereotypes who behave in totally predictable ways. These stock-in-trade characters include Sergio De Luca (Bobby Cannavale) a criminal planning to make a deal with Rayna and Aldo (Peter Serainowicz) whose eccentric driving and lecherous behavior are Hollywood's standard way of describing Italian men. It is Rick Ford (Jason Statham) who takes the biscuit for stereotyping in this movie. Rick, the foul mouthed Cockney, is a stock character in modern gangster movies. He boasts ad nauseam of his exploits as an agent in the field and is furious that Susan was asked to take over from Bradley Fine instead of him.
The movie is saved by its humourous dialogue, the gorgeous background setting of Paris, Rome and Bulgaria and its many fast-paced stunts. The best of these is the kitchen fight between Susan and an exotic assassin in a jade green jumpsuit (Nargis Fakhri.) There are many funny one-liners and a lot of slapstick humour which is aimed at agent Cooper. It is to Melissa McCarthy's credit as a comedy actress that she carries these stunts off so well and it is also to her credit that her presence saves this totally predictable movie from banality. (Jenny Mather)