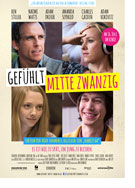 Gefühlt Mitte Zwanzig (While We're Young)
U.S.A. 2014
Opening 30 Jul 2015
Directed by: Noah Baumbach
Writing credits: Noah Baumbach
Principal actors: Ben Stiller, Naomi Watts, Adam Driver, Amanda Seyfried, Maria Dizzia
This terrific, well-cast comedy stars Ben Stiller and Naomi Watts as Josh and Cornelia, a New York couple in denial about being middle-aged. Professional success hasn't materialized in the desired way and they feel estranged from their friends who at least have kids to show for. Along comes a twenty-something neo-bohemian Brooklyn couple, Jamie (Adam Driver) and Darby (Amanda Seyfried), and catapults them 1-2-3 out of midlife crisis. Josh and Cornelia feel energized and forgo the company of their old friends to tag along with their hip new pals, to try new places and activities. They assume a kinship because Jamie and Darby surround themselves with items they used to have when they were young – books, LPs, even a typewriters – and had exchanged for i-devices. But a generation gap can't be wished away that easily. What is vintage for the young is nostalgia for the older. To no surprise they are tickled pink when Jamie, an aspiring documentarian, admires their long-term work in this field. But again they "judge a book by its cover.
Noah Baumbach (director/writer) keenly observed, and didn't spare any of his characters an examination under the satirical looking glass. Regrettably the story's ending is befuddling.
The direction is probably more at fault here than the actual idea. However, even if this questions the meaning of the film at first, it pays to give it some time to sink in. (Carola A)


Second Opinion

Josh Srebnick (Ben Stiller) and his wife, Cornelia (Naomi Watts) are a married couple who suddenly realise they are middle-aged and in a rut. This awareness comes after they meet and get to know a younger, cooler, fresher couple - Jamie (Adam Driver) and Darby (Amanda Seyfried). Josh and Cornelia soon start to long for who they were and start trying to recapture what they believe they have lost. This search has them ditching their old friends to hang out with their young friends. They are introduced to a hip lifestyle where hip-hop classes, street raves and 'getting in touch with yourself' drug experiences are the norm. All this excitement awakens Josh and Cornelia to what it is like to be young and alive again. Their search for youth highlights what is missing from their lives and as they embrace who they are and what they have learned from their journey it becomes clear, older can mean wiser.
Directed and written by Noah Baumbach this is a dramatic comedy that will strike a chord to many of those in their 40s. (Christine Riney)